Yamaha has a history of building user friendly sports touring motorcycles. Think of the Fazers, 1000cc and 600cc sport bike engines slotted into ergonomically pleasing riding positions and offering good value for money. With the MT-09 Tracer they have created a similar package. The problem with the naked MT-09 was that it was, well, naked. Fact is South African conditions result in us riding bikes at higher than average speeds. Speeds at which naked bikes literally become a pain in the neck. This, and a few other shortcomings of the MT-09, like "iffy" fueling and soggy front shocks, have all been addressed on the Tracer.
The Tracer is a strikingly good looking bike in a "Transformer" kind of way. Matt silver paint on the tank, side covers, front fairing panels and handguards are set off against a charcoal frame and some faux carbon panels. In stark contrast are upside down fork legs, wheels and a rear shock spring all anodized in a metallic purplish blue colour. The top triple clamp and handlebar mount are done in rich titanium, real eye candy. The angled body panels reflect the light to ensure that the Tracer has visual appeal from any angle.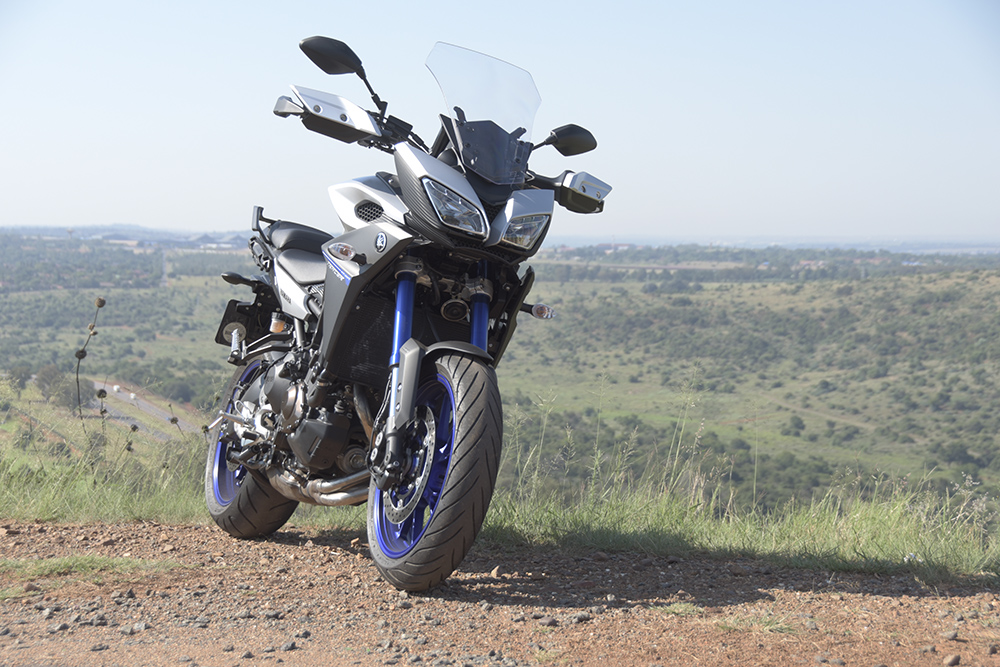 The exhaust headers angle into a stainless steel collector with a stubby outlet just behind the right foot peg. Unpainted, the stainless steel complements the raw Transformer image. "Yeah, I get it ". I hear you say "but what's it like to ride?
First impression when you heft the bike upright off the side stand, (it has a main stand too) is how light the bike feels. Decent leverage from the motard style bars accentuates the feeling. Thumb the starter button, cleverly incorporated into the kill switch, and the Yamaha comes alive. Snick it into the first of its six gears and off you go. The bike feels taught and firm and urgent. No slack or slop from the drivetrain. The three cylinder engine has a unique character. Go gently through the gears and the bike responds in a silky smooth manner. Crack the throttle in anger and you transform the engines feeling completely. The response is an almost electric strident buzz through the whole bike. A delicious harshness shouting "game on"! With 115hp driving only 210kg fully fuelled, the Tracer is a bullet! He He.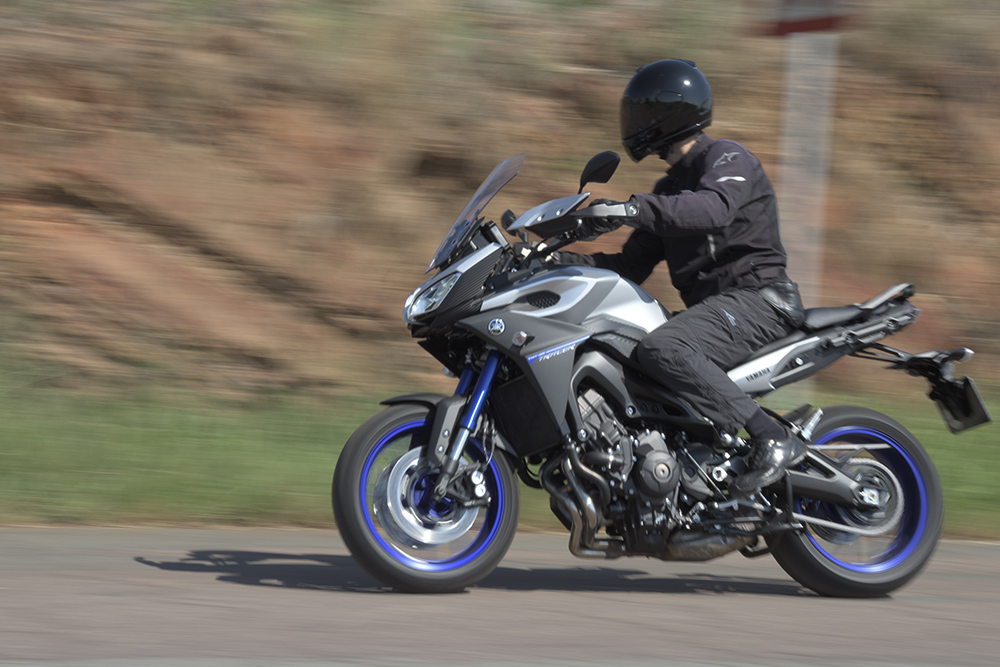 Ease off and "Mr Silky" comes back instantly. Intoxicating. In keeping with the current trend the, Tracer offers three engine modes. Standard gives a good all round ride. Responsive and smooth. A- The sporty option takes the standard option and feeds it a triple espresso! Highly strung and nervous. A is clearly for "adrenaline". B- Is to idiot proof the bike by dropping 20hp on dodgy roads or in rain. In my opinion it is all marketing hocus pocus. Standard setting and a controlled right wrist is all you need. I have yet to feel flawless fuel injection. In recent years I have taken to riding with my "pointing finger" on my throttle hand resting on the brake lever. This helps to negate the twitchy nature of fuel injection overreacting to minor throttle input. Bumpy road induced throttle snatch. Manufactures, toss the "modes" and, give us sweet throttle response!
The Tracer is comfortable, practical and above all fun to ride. All the components, engine, gearbox, suspension and riding positon combine to give you a feeling of total control. At times I found myself in attack mode, elbows, out, motard style, with the willing triple shrieking its falsettso song. The bike revels in this role. You find yourself wearing a huge grin as you squirt from corner to corner aided and abetted by the tearing Tracer.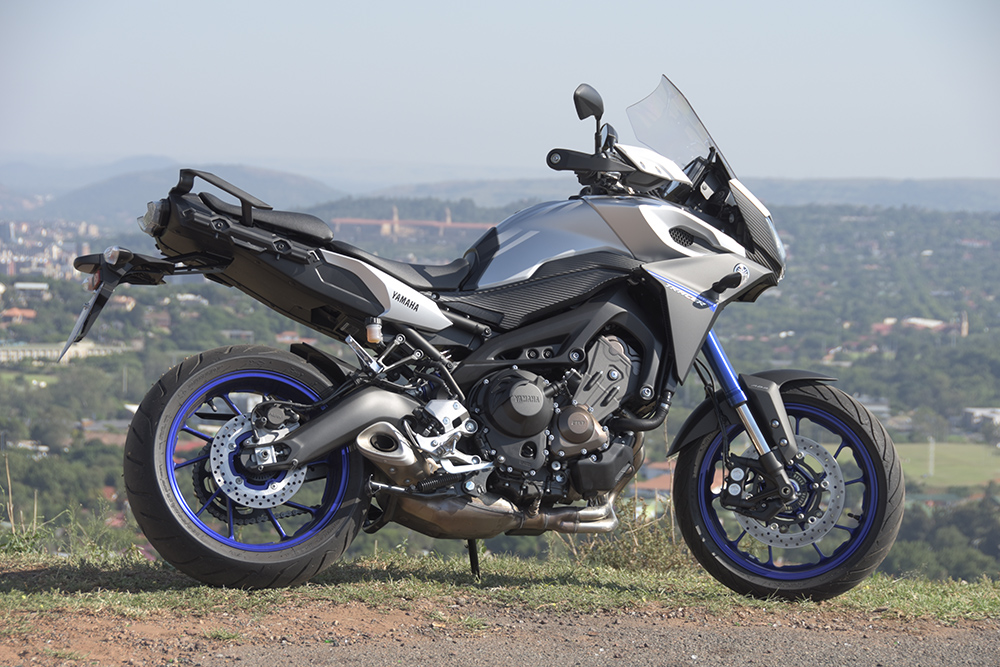 Tire of this tomfoolery and ease off the throttle, instantly the Tracer reverts to smooth, refined and comfy. Incredible! The torquey power delivery makes two up riding effortless. Firm but comfortable seating cossets both rider and passenger.
The 18 litre tank and excellent fuel economy ( 4,7l/100) measured riding two up at a constant 135kph, gives a range of over 350 kays between fill ups. Instrumentation is comprehensive. Digital speedo and rev counter, Trip 1 +2, Odo, current and average fuel consumption, fuel gauge, air temp and coolant temp. It's all there. A convenient power jack for your GPS, or whatever, is located just left of the instrument cluster. Pull the trigger which would normally flash your headlights and a "Menu" display comes up. This allows you to fine tune a number of functions such as display brightness etc. Switch off the bike with its conventional dash mounted key, and the display flashes "See you next time"! Cool!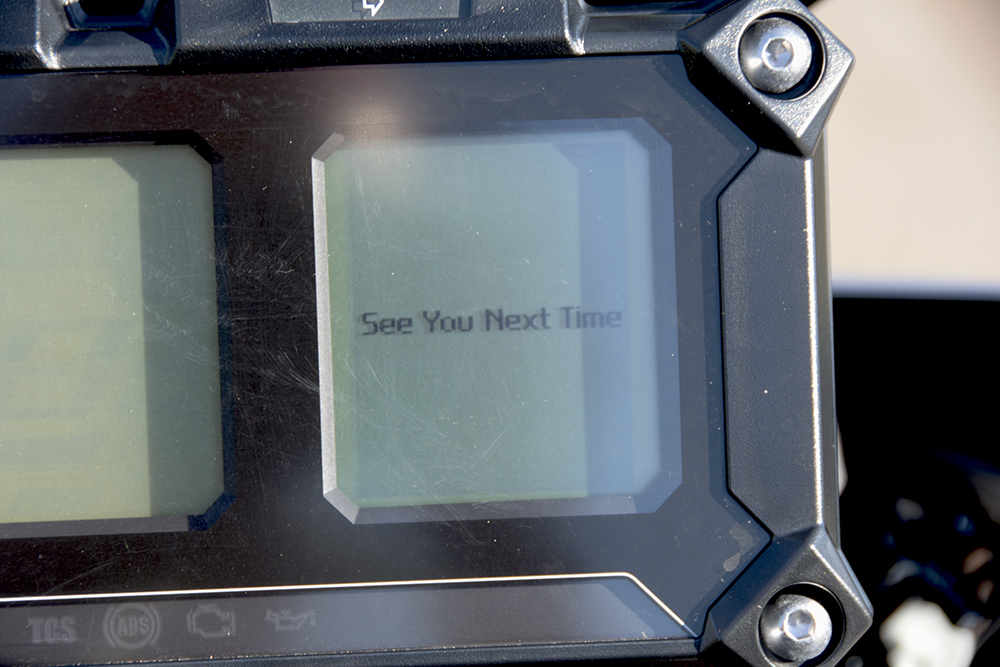 The Tracer sports built in mounts for factory optional luggage. The suspension offers preload and rebound damping adjustment, both done manually. ABS also comes standard. All in all a really comprehensive package. Bright headlights with decent reach and spread enhance safety at night. The seat offers two heights 845mm and 860 mm. The screen too has 30mm of vertical adjustment via manually adjusted knurled knots located inside the fairing.
In summary, there is nothing not to like about the Tracer. It is a willing accomplice to any form of road riding. Decent dirt roads will offer no challenge either. It steers with accuracy that no Adventure bike can match, yet offers similar comfort. This is a bike that teases and tantalizes and thoroughly tickles you pink! I absolutely loved every moment.
I am sure you will too!