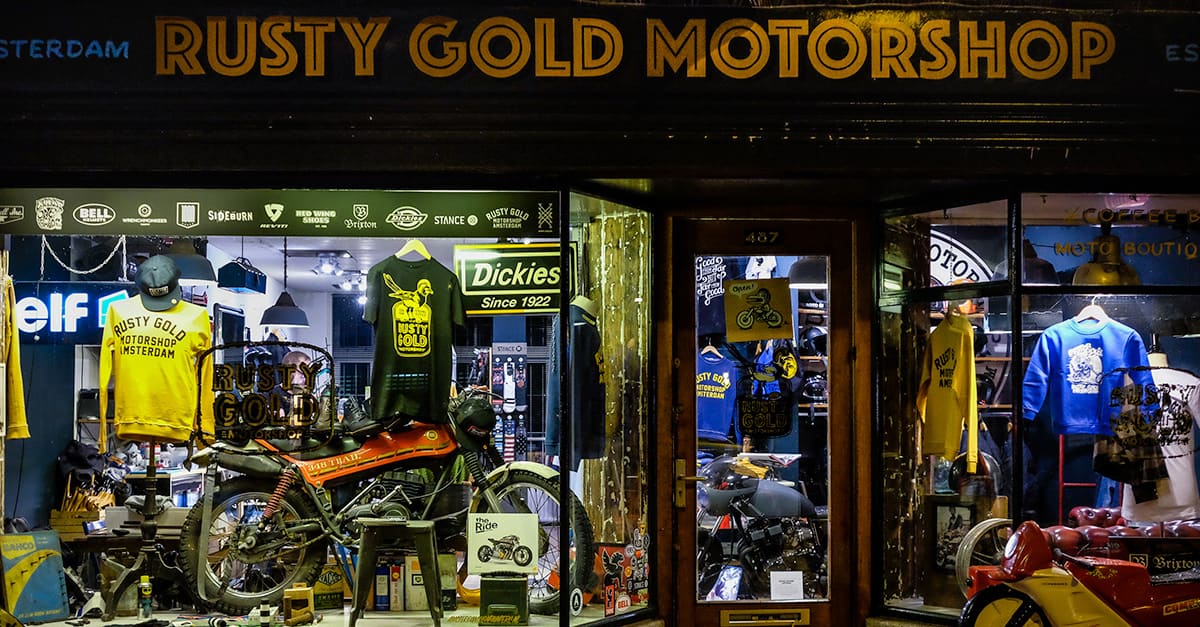 Amsterdam is a amazing city to visit, but it's not about to top anyone's list of hot motorcycling destinations. Crazy inner city traffic makes it easier to get around by train, tram or foot, and once you venture outside the city, the roads are flat and straight. Then there's that winter snow…
Still, that hasn't dampened the spirits of Amsterdam's growing motorcycle community. Custom motorcycle builders like Ironwood Custom Motorcycles and Nozem Amsterdam call it home, and a handful of motorcycle and gear manufacturers keep offices in the area.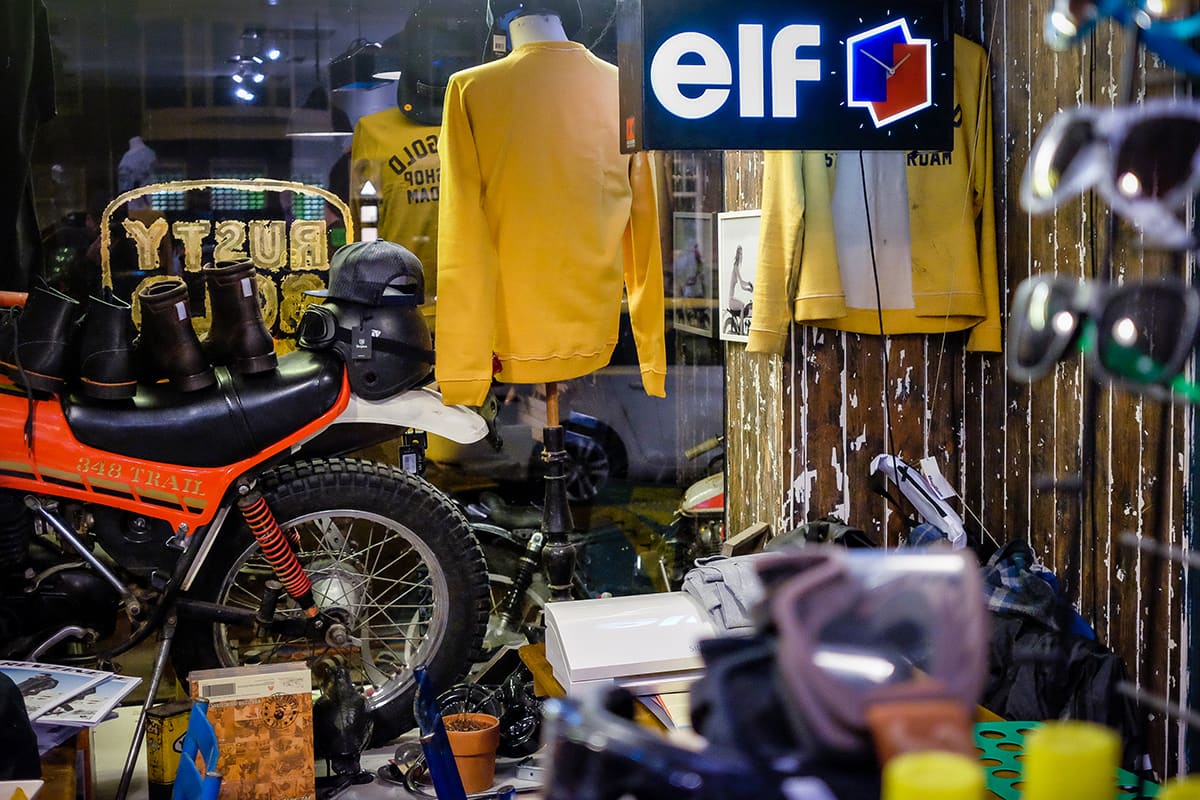 It's also home to the raddest little moto gear and apparel shop I've ever walked into: Rusty Gold Motorshop. You'll find them on the edge of the city centre, on the bustling Overtoom street. "It's one of Amsterdam's busiest streets," says proprietor Zoran Holtkamp, "so the neighbors are used to traffic noise, which is a good thing for me and my clientele if you catch my drift."
"The area used to be mainly residential, but because of the growing number of cool hotels and little bars and restaurants, it is now becoming more popular with tourists and and youngsters. Vondelpark is around the corner and great in the summer—you can't ride your bike there though."
Zoran opened up shop in 2016, to escape the clutches of a career in advertising. "'Art Director' was my last job," he says. "I didn't hate it, and was pretty good at it, but never saw myself doing it for forever."
"There's a lot of BS you need to sell and work with, plus loads of endless meetings about absolutely nothing. Not my cup of tea…I'm too honest."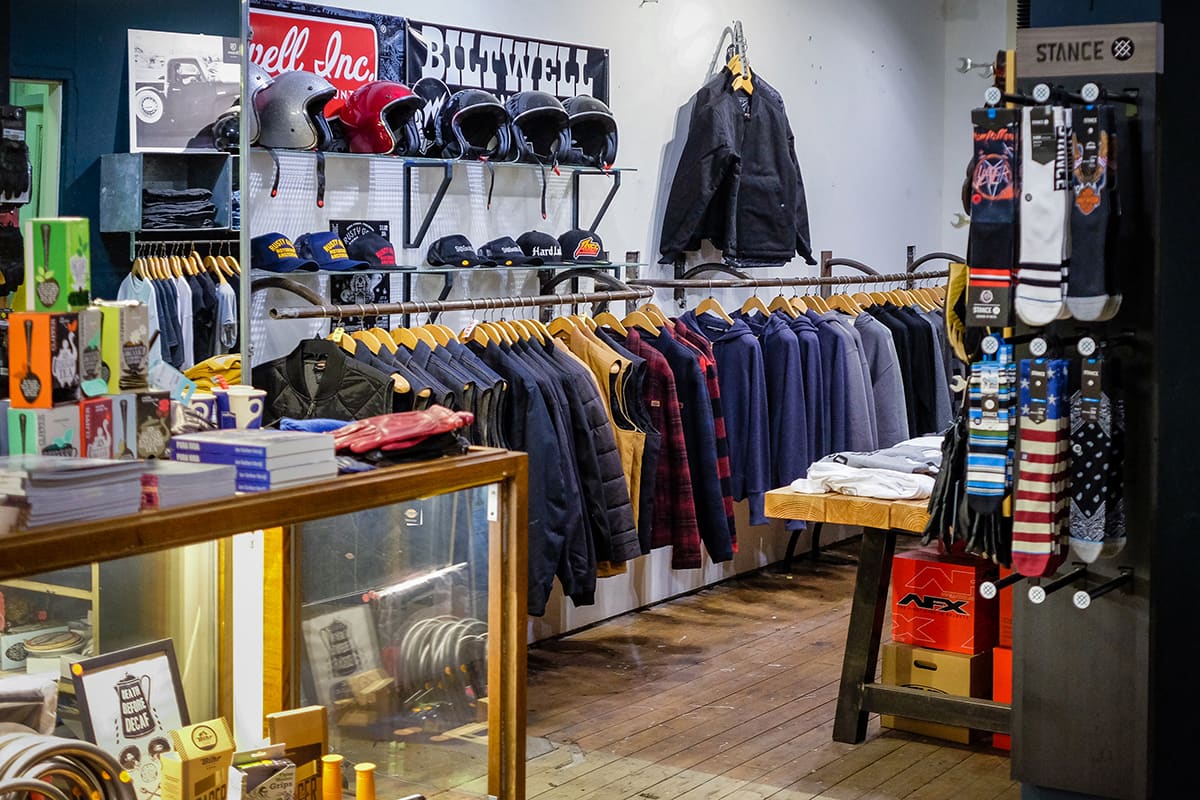 Zoran really is a down-to-earth, authentic dude—and his shop reflects this. It's a modestly sized space, that feels like a cross between a skate shop and a bike gear outlet. Apparel and riding gear line the walls, on industrial fittings that range from repurposed shelves and racks, to hooks made from spanners and rails made from metal piping.
Everything feels either reused or recycled—like the vintage riding boots, old fuel tanks and various rusted up bike parts hiding in the corners and piled up in the shop window. My favourite bit of décor's the vintage Montessa trials bike in the window, and I once even spotted an empty bottle of Parow Brandewyn lying around (Jack Parow's a regular when he's in town).
It borders on being a random collection of junk—but with Zoran's background, there's no doubt that every last knick knack's been carefully curated. Look closely, and you'll even spot the Rusty Gold mascot—a crow in a helmet—perched on the main display cabinet.
The only new stuff inside is the gear Zoran sells. Rusty Gold stocks items from Biltwell Inc., Rusty Butcher, Red Wing, DMD, Bell, DePalma, Dickies and Wrenchmonkees, and are about to add Cycle Zombies to that list. They also carry riding gear from fellow Dutch company, REV'IT!. You can also pick up Stance socks, the latest issue of Sideburn magazine, or maybe a couple of pins, patches and stickers.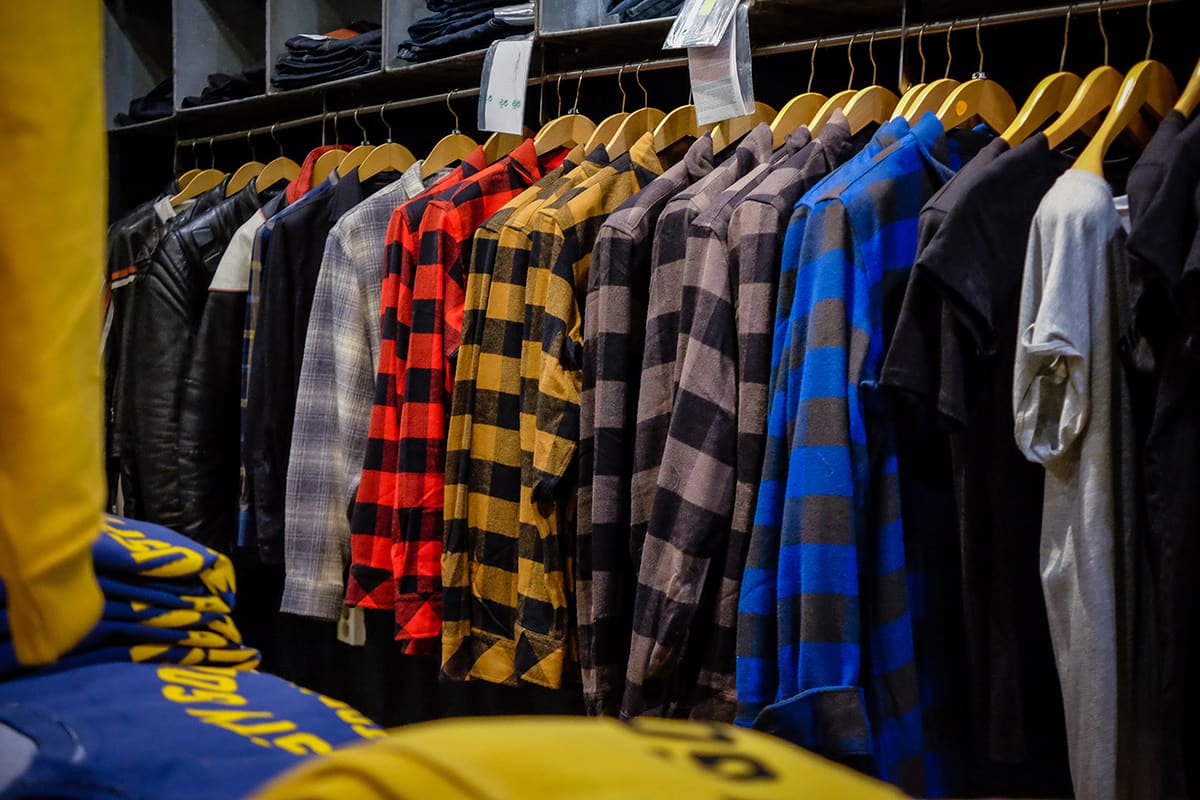 But Zoran tells me his biggest seller is Rusty Gold's own apparel—a range that consists mostly of sweatshirts, t-shirts, caps and wallets, and that ranges from staple designs to one-off creations. Zoran's sister is a screen printer by trade, and works from Rusty Gold's basement, so naturally she handles all of the shop's apparel printing. Caps are pressed in-house too, and the shop's planning to branch out into leather goods and, eventually, riding gear.
"I use my experience as a former graphic designer for the designs, and know a lot of cool artists who help me too," says Zoran. "The idea behind it is that I only use premium and durable quality clothing which we hand screen print locally with cool bike related—but not overly stigmatised—designs. No angry stuff!"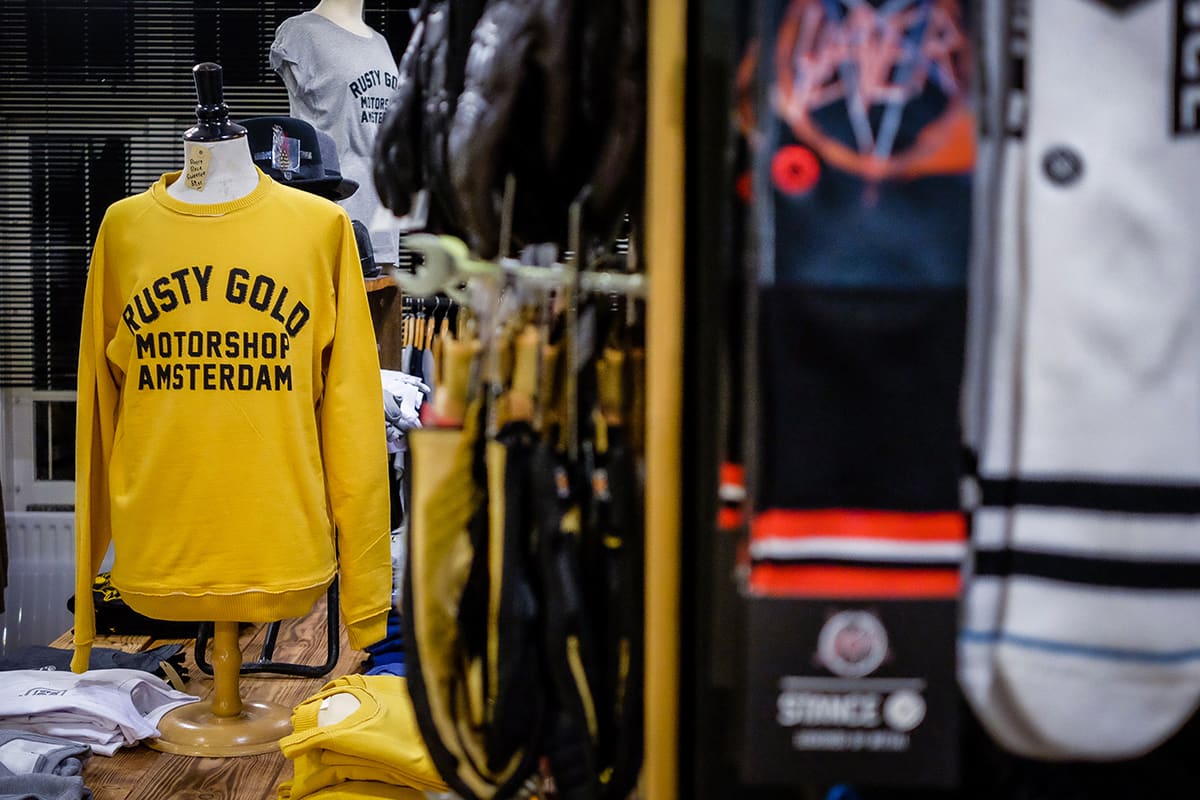 "The yellow Rusty Race sweater has been the all time best seller and is still going very strong. Racing in it at Dirt Quake, alongside Guy Martin in the chopper class, was a great accidental marketing stunt!"
Rusty Gold also serves up a basic menu of daily essentials: espresso-based coffees, tea, soft drinks and delicious ham and cheese toasties. You've got a choice of a couple of tables in one corner, or an old leather sofa in the other, to kick back and kill a few hours.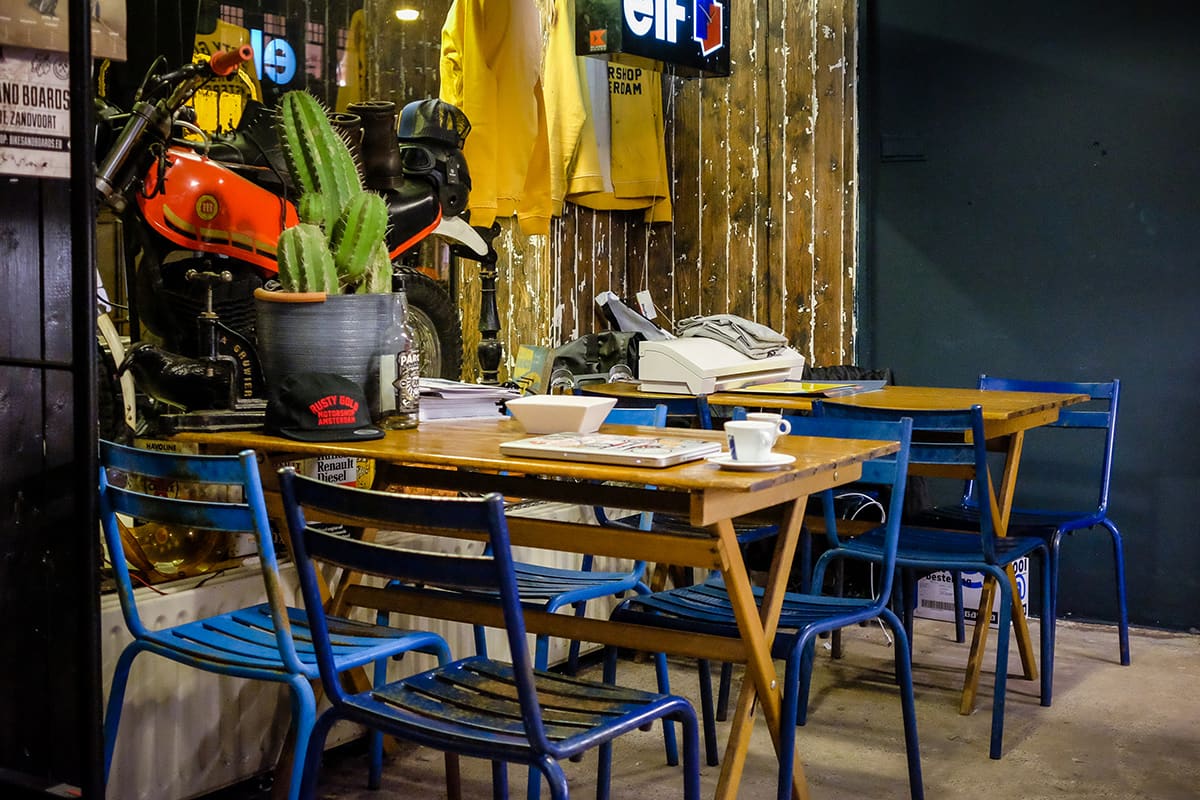 Then there's the shop's latest addition—an underground workshop, accessed via a secluded staircase, or the freight elevator platform that's hiding under the carpet. "My friend Martijn is a very skilled mechanic, electrician and welder," says Zoran, "but doesn't have any space at home to work on his bikes. I have space and love to design and tinker too, especially with an occasional helping hand from Martijn."
"So now we have three workbenches and a bunch of bikes downstairs, which we are working on two or three days a week. At this moment we're working on our first complete build, for another friend, which is supposed to be ready this summer, and is going to be pretty radical if I may say so!"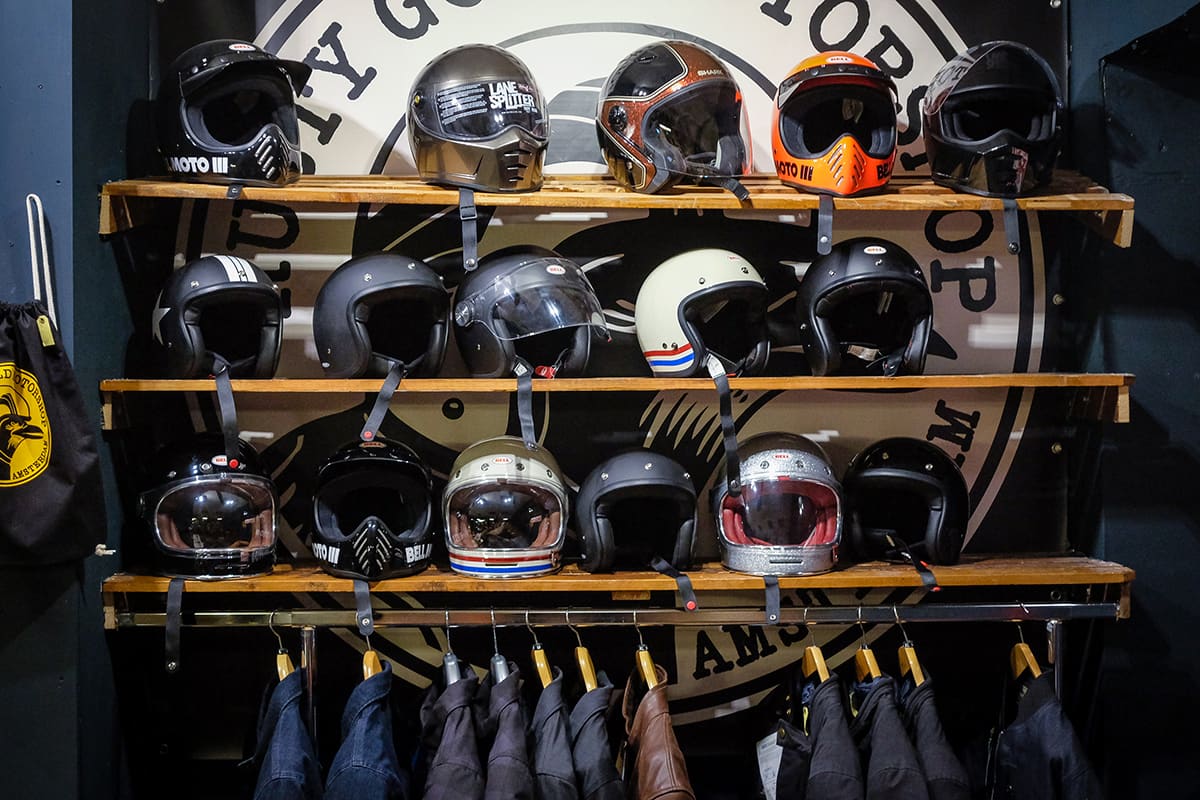 Rusty Gold Motorshop is more than just a cool place to buy stuff at though. It's a hub for the local alt moto scene—where you can hang out on 'chilli night,' buy and sell bits and pieces at a swap meet, or just hang out on a Thursday night (when they're open until nine).
But more importantly, it's a spot you should definitely pop in at, the next time you're in Amsterdam.
Images by Wesley Reyneke
Rusty Gold Motorshop, Overtoom 487, Amsterdam
Website | Instagram | Facebook