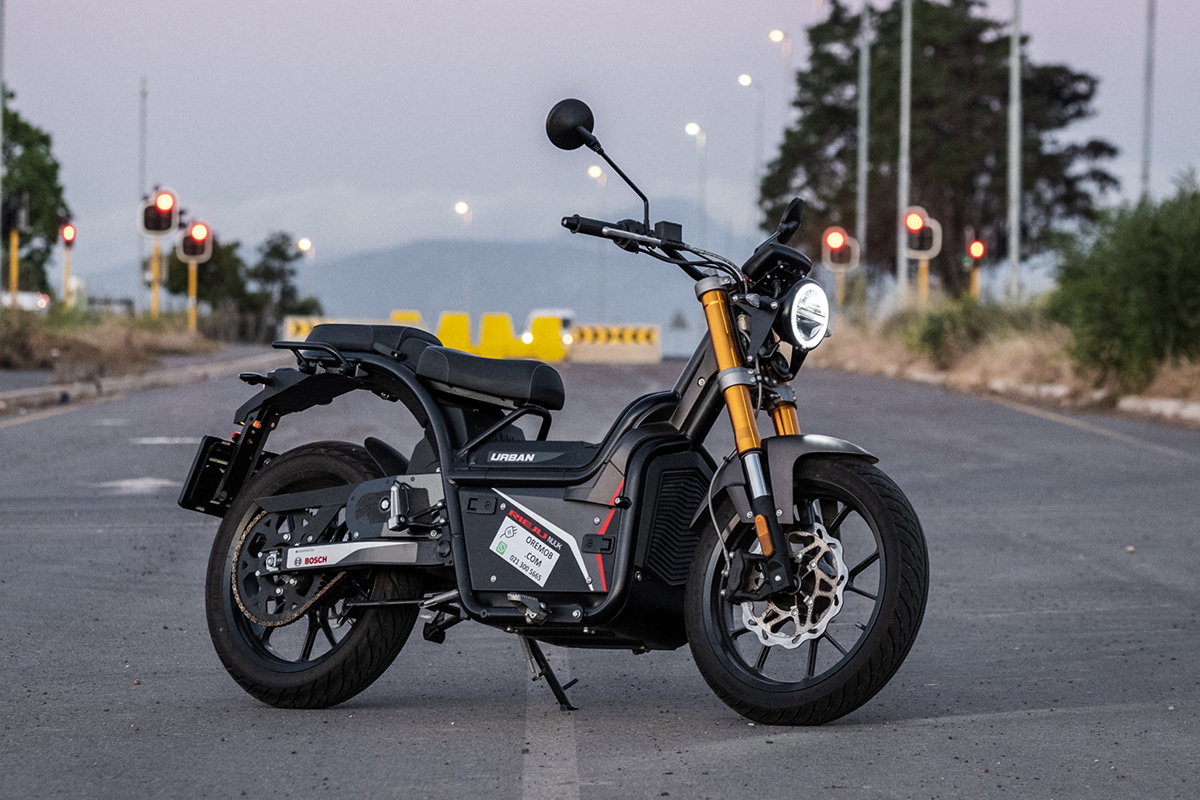 The advent of the electric motorcycle has made one thing abundantly clear: there's a massive generation gap in motorcycling. Those that grew up on two-stroke oil can't wrap their heads around the idea of bikes that don't growl or vibrate. But the younger crowd isn't bound by the same nostalgia—to them, anything that gets them from A to B with a smile on their face is fair game.
Right in the middle of that quandary sits the Rieju NUUK. Its diminutive size and step-through design are decidedly moped-ish, but its alloy wheels, anodised upside-down forks and wide handlebars look like they've been pinched from a bigger bike. So it'll befuddle anyone that's expecting a conventional motorcycle.
Rieju is a Spanish brand, and the NUUK is actually manufactured there, using a handful of European components—like a Bosch motor and J.Juan brakes. That, and the inherent cost of burgeoning electric tech, means that the NUUK is priced at a premium. Prices start at R139,999 for the dual-battery 'Urban' model tested here.
That would be enough to slam on the brakes for most potential buyers—and the NUUK's size, top speed and range make it an even harder sell. No doubt, this is a short range missile, best suited to quick commutes, errands, coffee shop runs, and deliveries within a reasonable radius. But if you can put its price and limitations on ice for a second, there's a lot to love about this spunky little runabout.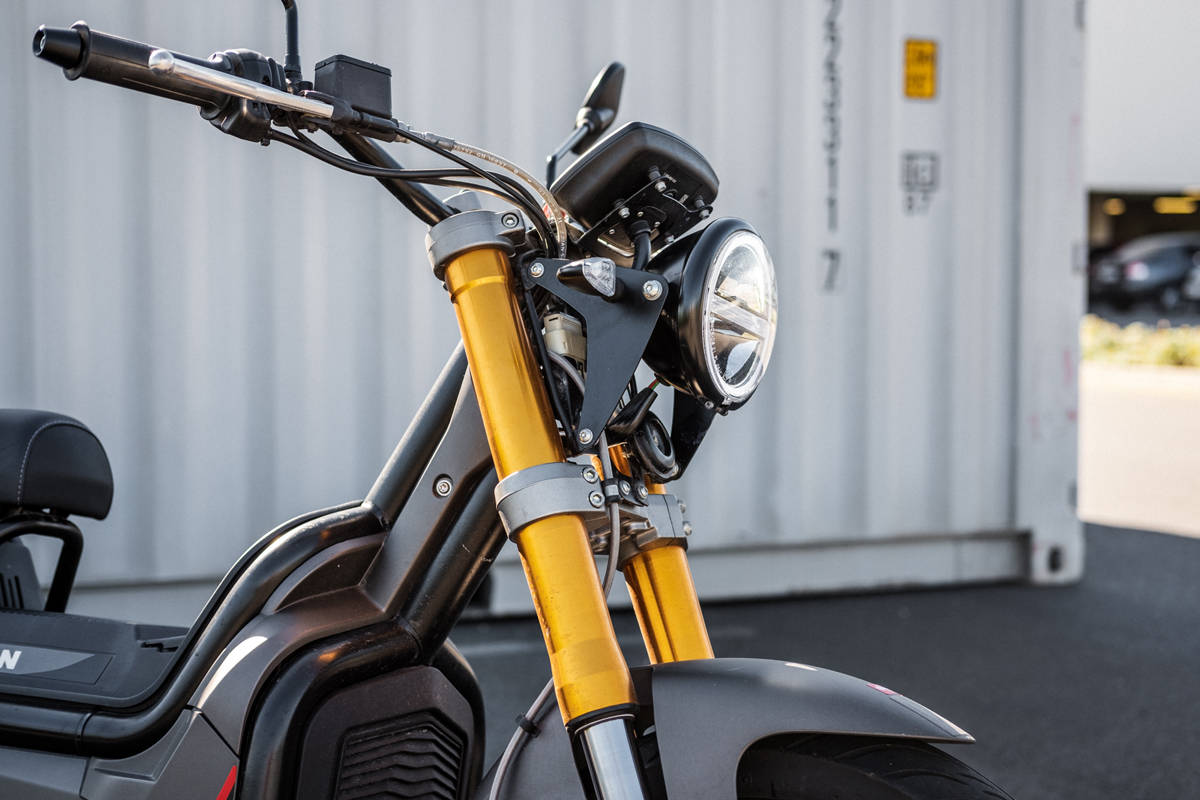 For starters, it's a lot of fun to ride. A lot. Its electric motor is torquey, putting out 41 Nm and 8.5 kW, and delivering it instantly and smoothly. Like most electric bikes (and scooters), there's obviously no clutch; it's a beginner-friendly twist-and-go affair.
The Bosch system on the NUUK also has three riding modes built in. It's a classic trade-off: each mode unlocks more power, but chows the battery quicker. The lowest setting, 'Go,' isn't good for much more than pottering around the suburb. The next, 'Cruise,' acts as a standard mode of sorts, but 'Boost' is the most fun. And there's even a nifty 'Crawl' mode that you can use to help walk the bike into tight parking spots.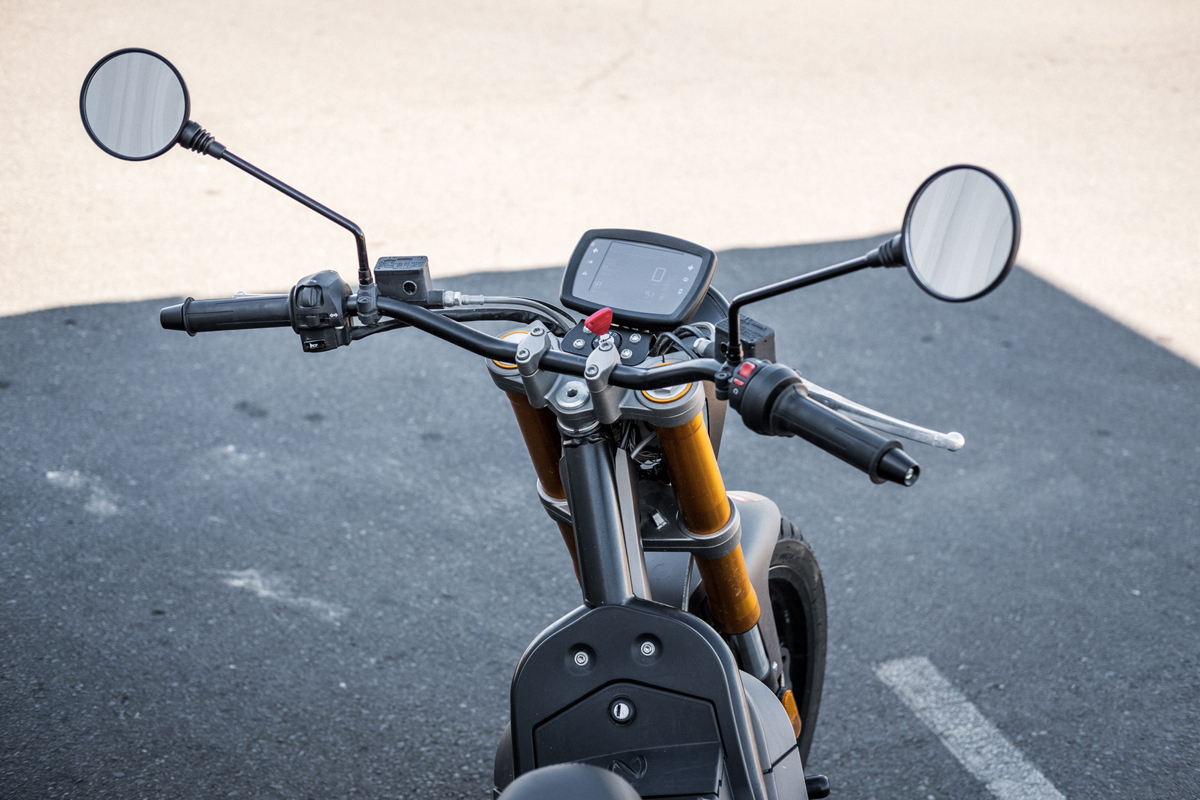 Set to full, the NUUK is truly zippy of the mark. So much so, that it surprised my old man when he took it for a spin—and he's used to riding big touring Harleys.
Plus it handles great too. At 150 kilos the NUUK is a little porky for its size, but it doesn't feel it. It's easy to toss around thanks to its wide handlebars and grippy foot pegs, plus the 17" hoops make it nimble on the road. And it's a comfortable ride too, even for a 1.82 m tall, forty-something-year-old adult like me.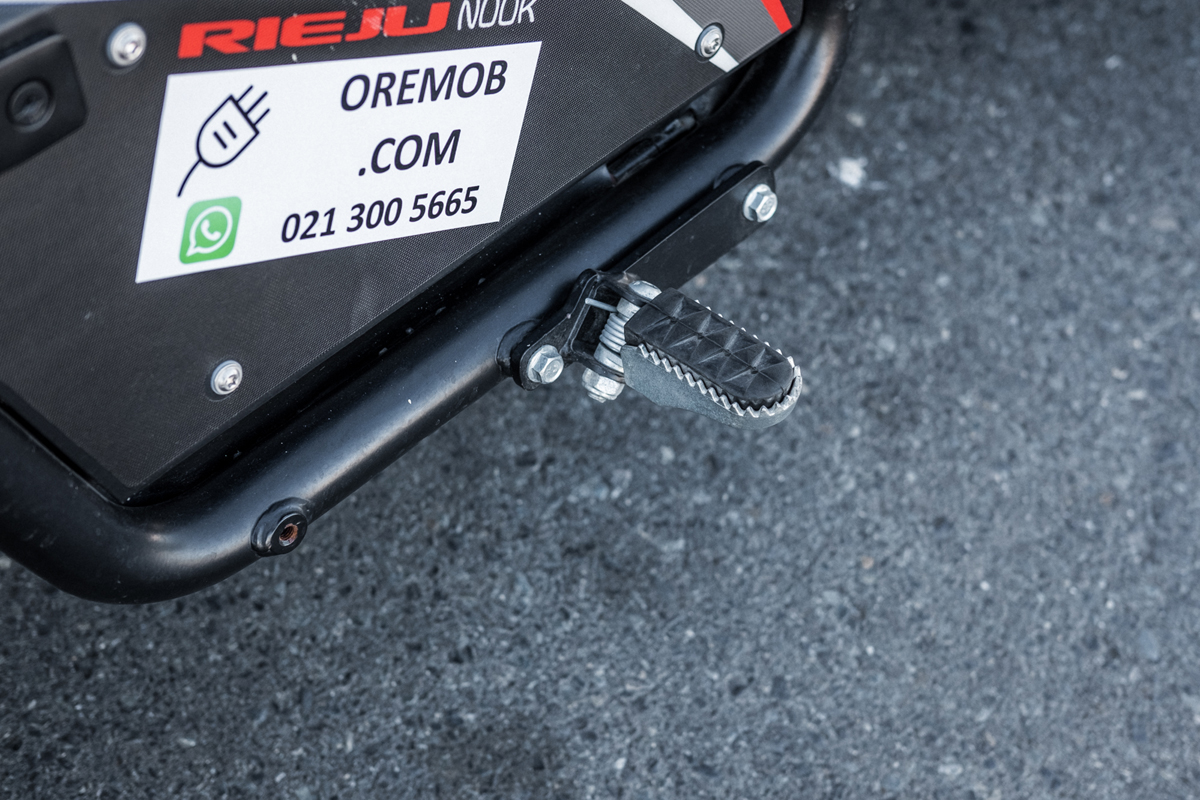 The suspension works OK as long as you dodge hard knocks, and with a 280 mm disc up front and a 220 mm unit at the back, the brakes are more than adequate. It's a linked system too, which takes some getting used to. And it has a regenerative braking function built in, which puts power back into the batteries during braking (although it's not particularly noticeable under normal use).
As a runabout, it excels. Pulling away from cars at traffic lights: check. Darting into side streets and shortcuts with ease: check. Getting stares, smiles and the thumbs up from random strangers: check, check and check.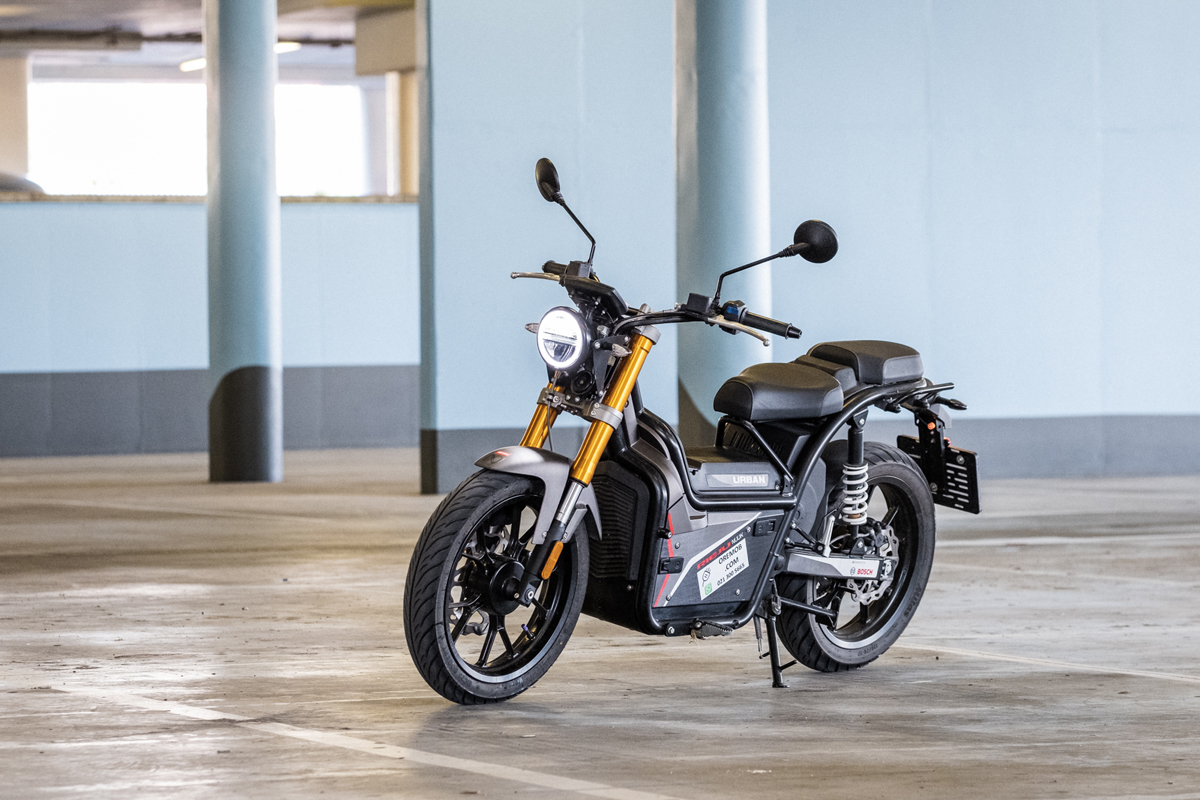 But packing on highway miles: sketchy. The NUUK has a claimed top speed of 110 km/h, but I couldn't get it past 80. It's probably worth mentioning that I weigh around 130 kg, and that, like most small capacity bikes, extra weight has a big effect on performance. Smaller, lighter riders will surely be able to eke more speed out of the mid-mounted brushless motor.
Another number I couldn't quite hit was the NUUK's listed range: 150 km. Granted, Rieju probably calculated this number with a 70 kg rider riding half-throttle in 'Go' mode—so at my size, I was asking a lot of the two 4.8 kWh Lithium-ion batteries.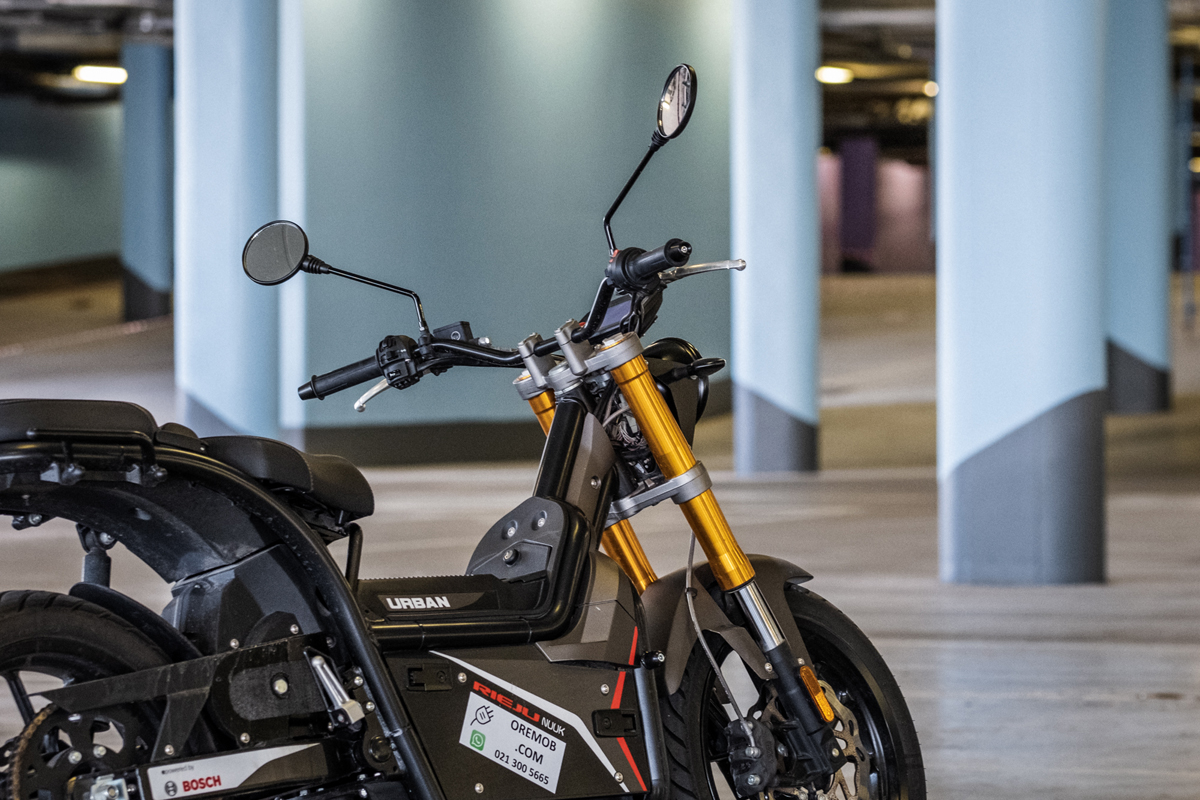 Flicking between the different modes, and riding with varying levels of aggression to simulate daily usage, I managed a maximum of 56.4 km on a full charge. And that was with a quick top up snuck in between my riding too, at a friendly cafe with a plug point. (When the battery dips below 5%, it'll automatically limit power output, so that you can literally limp home.)
The NUUK's dashboard packs in a ton of information—like how much charge is left, and your predicted range, which updates itself on the fly, according to how you ride. It works for the most part, but even at the lowest power setting, the system's most optimistic prediction was 101 km. In other words: results may vary.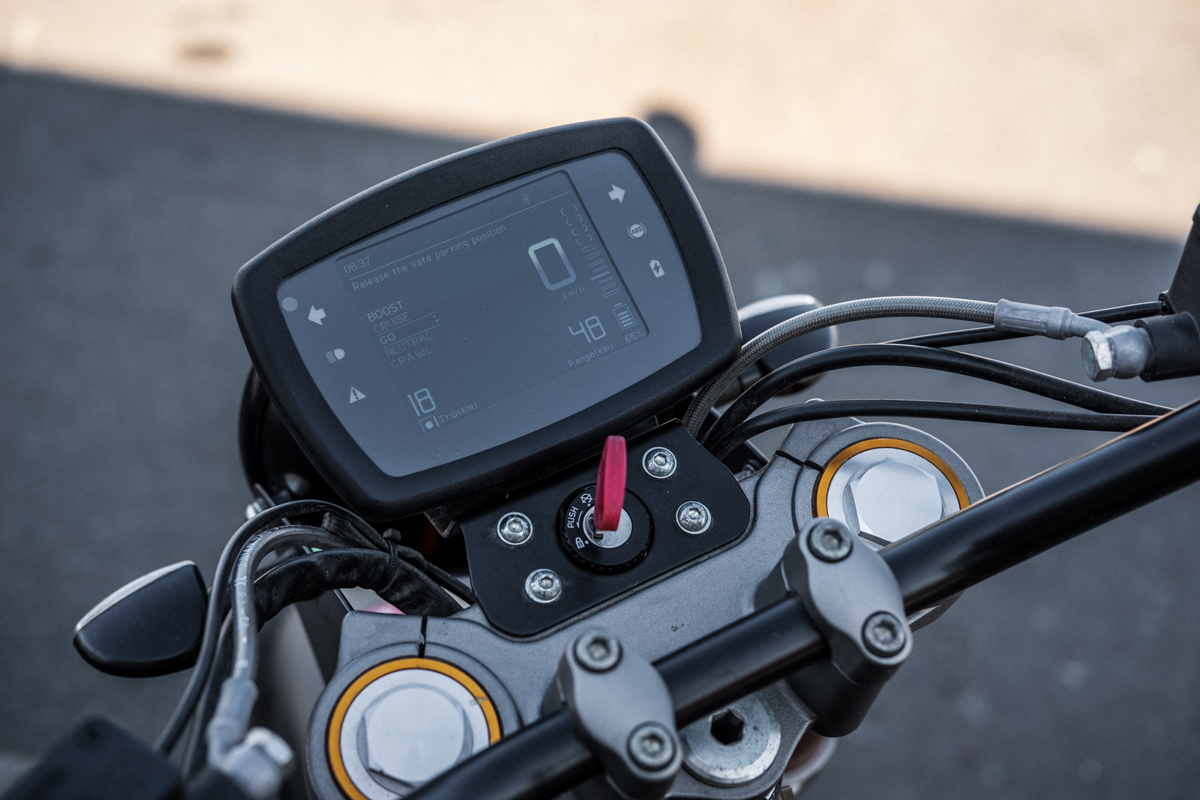 That's not a big deal if your daily mileage is short. I scooted around the 'burbs for a week on the NUUK, and only got into a pickle the day I deliberately tested its maximum range. For the rest of the time, I could manage spirited riding from point to point, with an overnight charge to prep it for the next day's galavanting.
And galavant you will, because, at the risk of overstating it myself, the NUUK is a lot of fun to ride.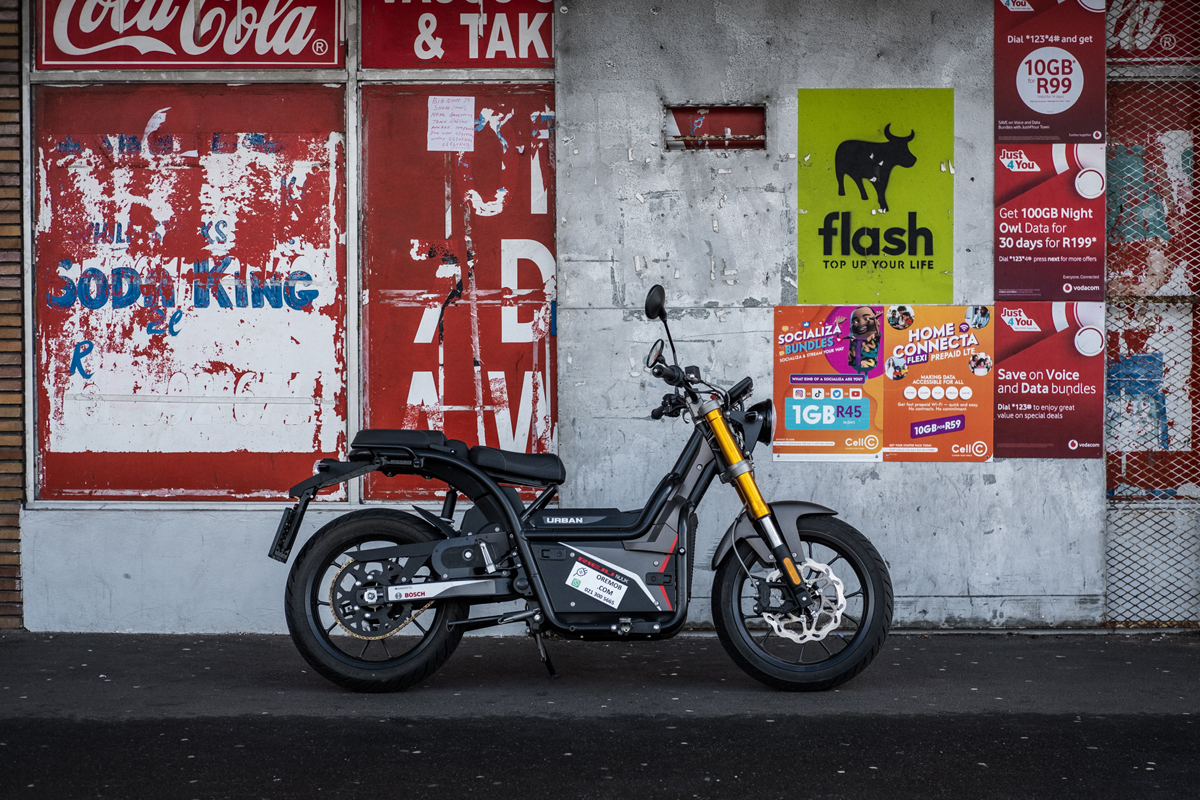 Charging is a breeze too. The charge cable comes fitted with a standard three-point plug, and it takes 4.5 hours for a full charge. (There's a fast charge function that'll get you to 50% in an hour-forty, but I didn't test it.) By my extremely rough calculations, charging sucks less than one unit of electricity per hour—so at least 'refuelling' the NUUK is cheap as chips.
The charge cable is stowed in a locked compartment in the 'floor' of the bodywork, and can be a little fiddly to get in and out. It's also hardwired in, and I would have preferred a separate cable that plugged into the bike. That way, if it got damaged, I could order a new one rather than have to take my scoot back to the dealer for repair.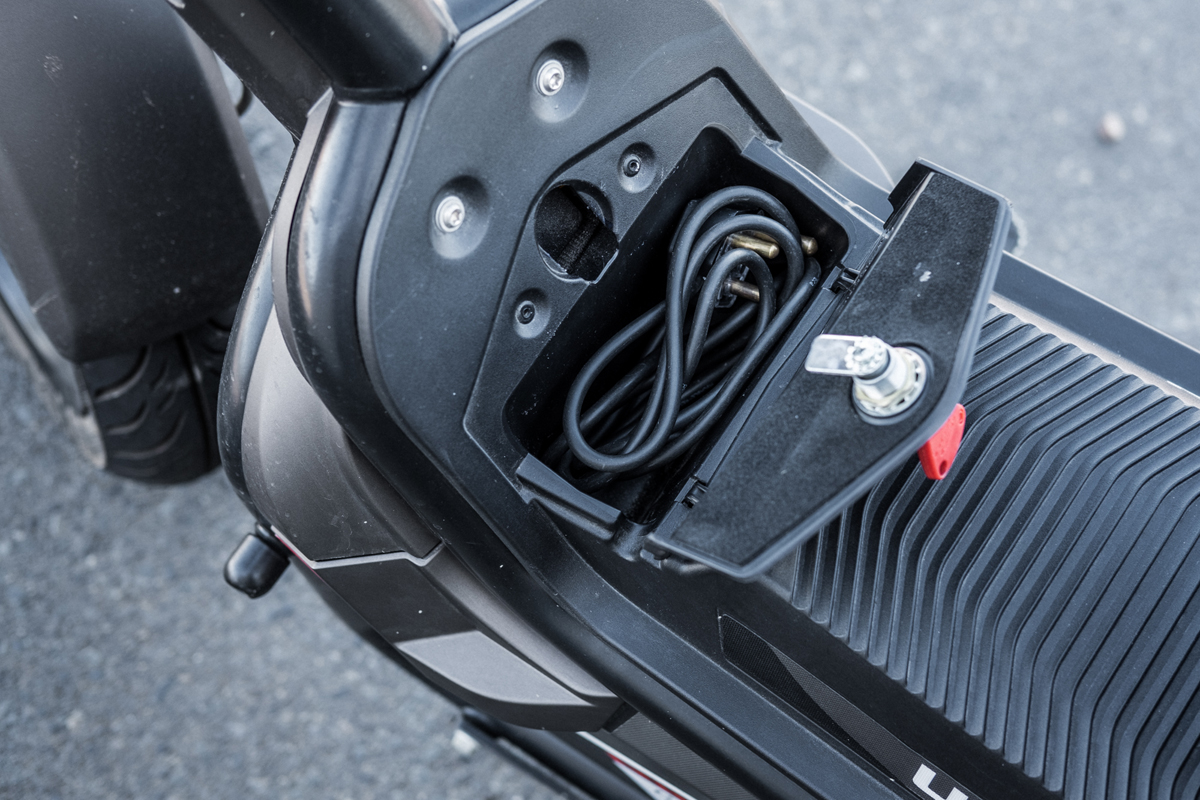 It's one of a handful of niggles I have with the NUUK's overall construction and build quality. I also spotted a couple of wiring connectors that could have been packaged neater, and early signs of corrosion on the bike's headlight, shock body and brake discs. But for the rest, it's a well-built machine.
The frame's pretty burly, and parts like rear fender, taillight, forks and wheels all feel top shelf. The two-piece seat sports a nice gripper fabric, while a bicycle-style quick-release lever lets you flip the passenger seat up to act as a backrest. Cleverly, the bit between the two seats is rubber rather than hard plastic—so it won't hurt you if you're shifting your weight around.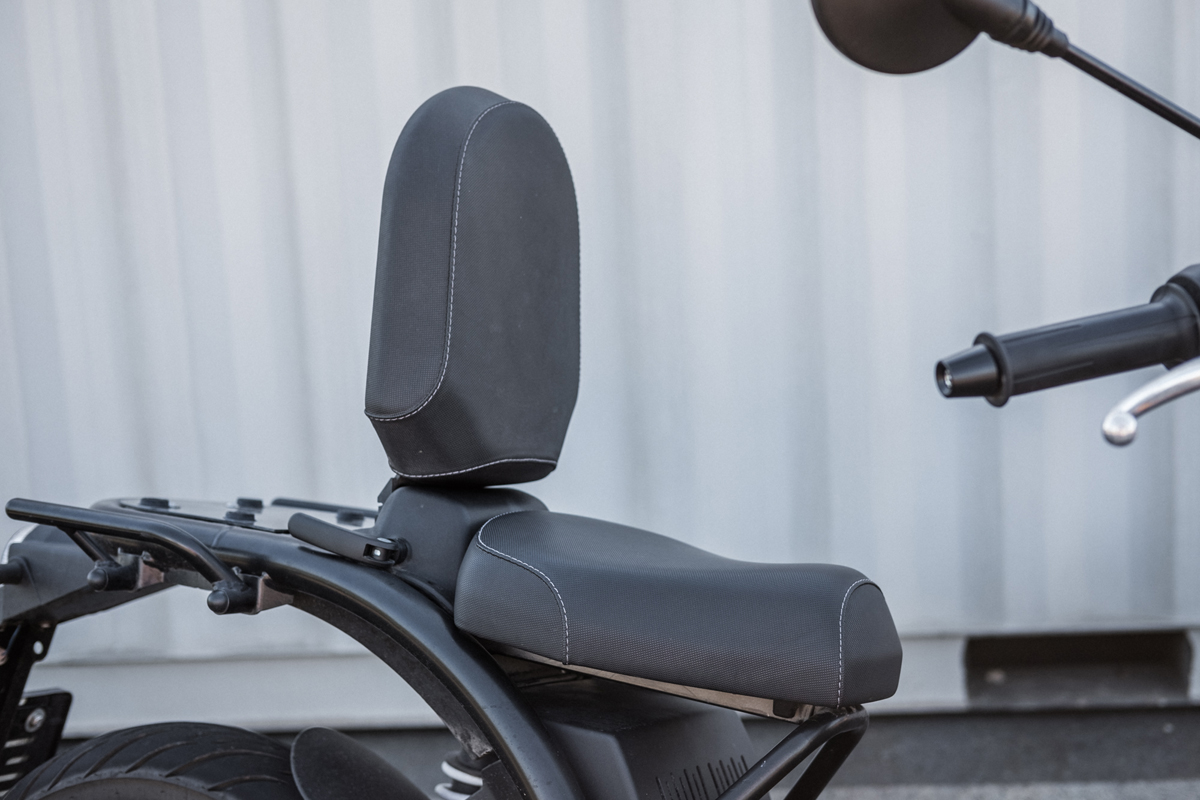 If you're planning to use it as a delivery bike, you can order it with a top box fitted in place of the pillion pad. So the grab handles and passenger pegs are easily removable too.
The whole bike feels modular. The handlebars and grips are standard diameter items, and the frame appears to have multiple mounting points for the foot peg brackets. I could easily see owners customizing their NUUKs to suit their specific needs.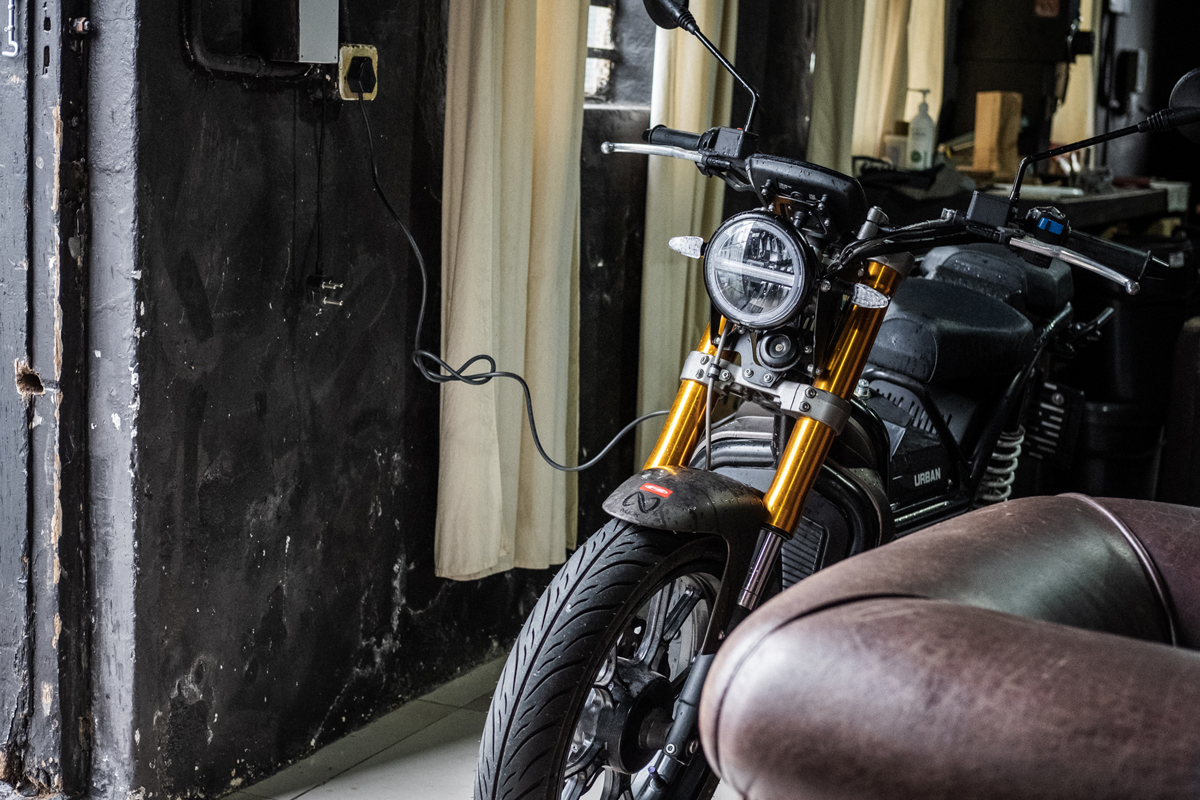 And that's really the crux: the NUUK won't suit everyone, no more than a Honda Cub will suit someone looking to clock highway miles, or Honda Goldwing will suit someone commuting 5 km each way. It certainly doesn't tick all of my own motorcycling boxes… but I'd be lying if I said I wouldn't love one in the garage for daily duties.
The Reiju NUUK is imported by, and the test unit was supplied by, Cape Town-based ORE Mobility.