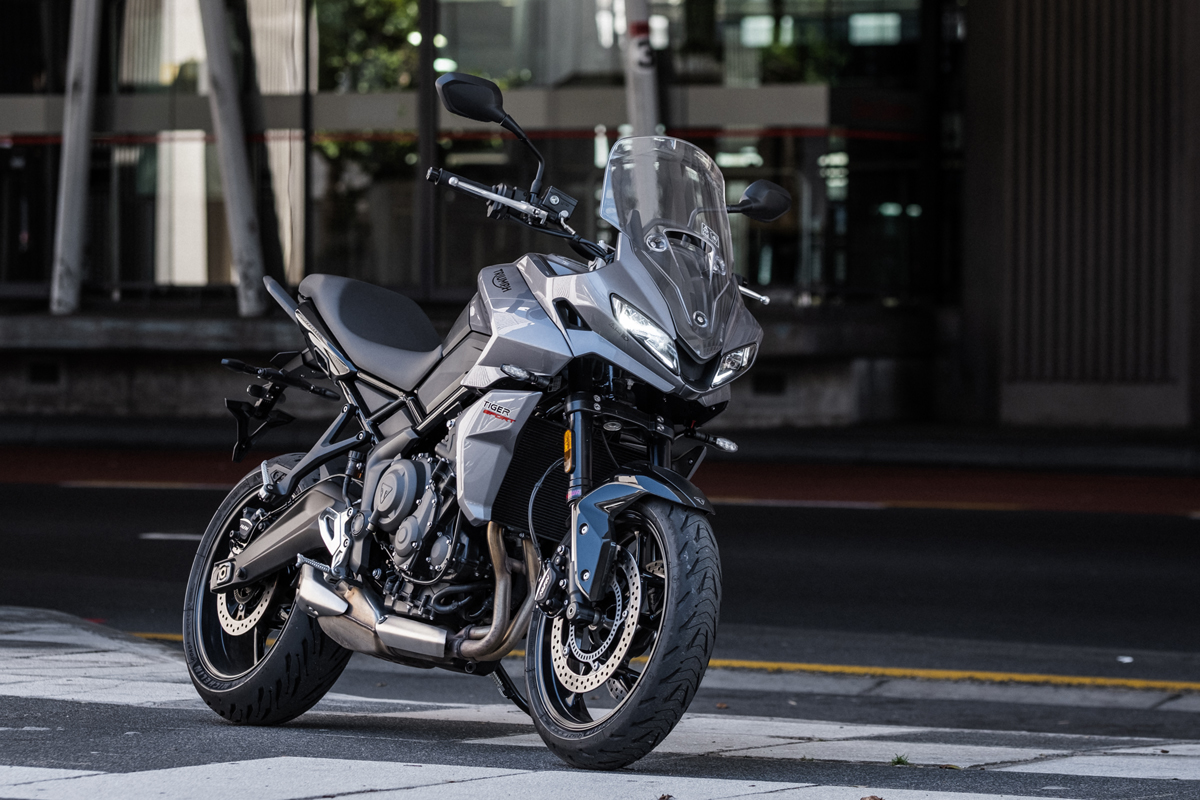 The Triumph Tiger Sport 660 is a motorcycle I didn't see coming. Distracted by Triumph's big updates to bikes like the Speed Triple RS and Tiger 1200, I somehow missed the fact that they were quietly working on a adventure sport version of their Trident 660 roadster. But now the Tiger Sport 660 has hit our shores, and I've just had a chance to sample it.
On paper, the Triumph Tiger Sport 660 has all the makings of a capable bike. And by "capable," I mean falling into the trap of being good enough to do most things, while also being sort of bland. Luckily, it's not—like the Trident 660, it's actually a surprisingly fun bike.
It's also Triumph's third-cheapest bike—priced from R169,000 (a bit more if you pick a fancy paint job), versus the Street Twin's R159,000 base price, and the Trident's R155,000 tag. Services only need to be carried out every 16,000 km too, so that should at least help balance the budget a bit.
At its core is the same 660 cc liquid-cooled, inline three-cylinder motor as the Trident, good for 81 PS (about 80 hp) at 10,250 rpm, and 64 Nm of torque at 6,250 rpm. The motor is Euro 5 compliant, and works with a six-speed gearbox and a slip-and-assist clutch.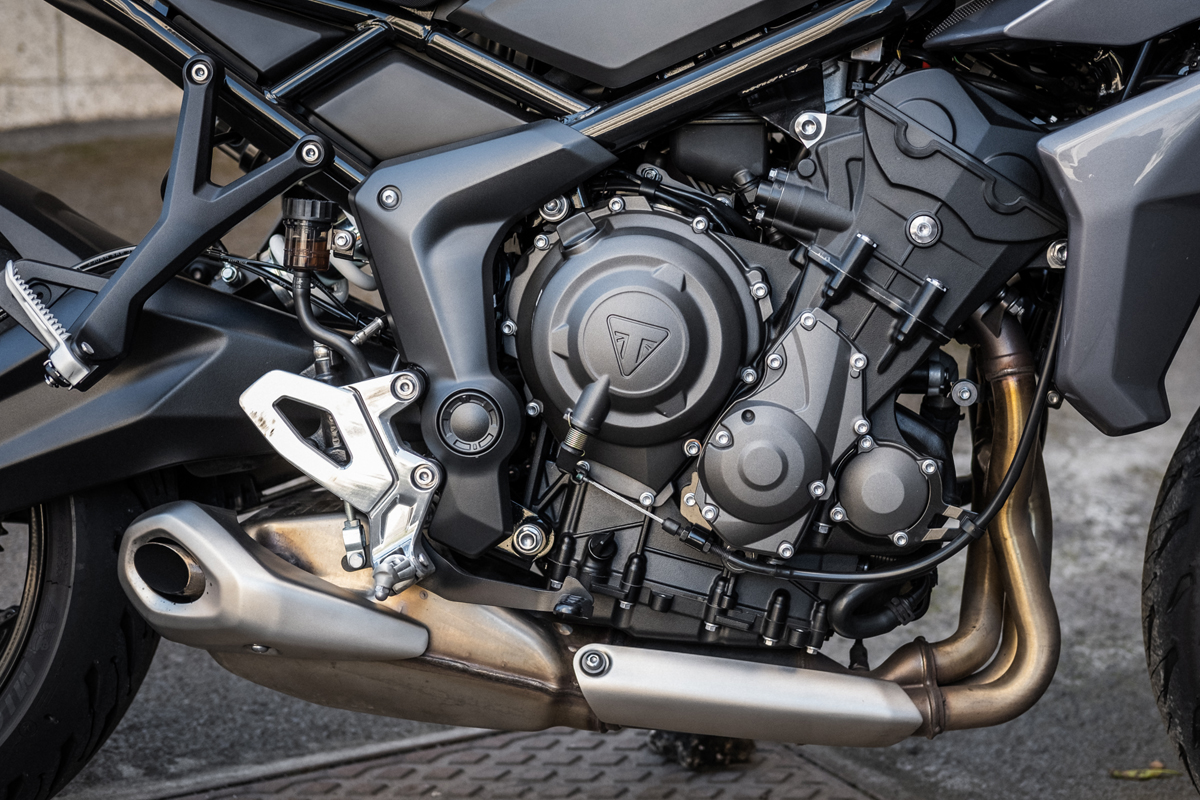 Sure, the Tiger Sport isn't quite as raucous as stablemates like the Street Triple 765 RS, but it's no slouch either. The rev-happy mill spools up smoothly and quickly, with a linear power delivery that makes the bike adaptable to a wide range of riding styles. It won't buck you off if you're a beginner, but it'll also reward a heavier hand with a spirited ride. And it's got enough guts to cruise at highway speeds, plus change.
It's also not quite as raspy as Triumph's bigger triples, and does sound a wee bit sanitised. But what it lacks in character it makes up for in usability; I was surprised at just how much I could shrink—or stretch—the length of each gear, depending on the scenario.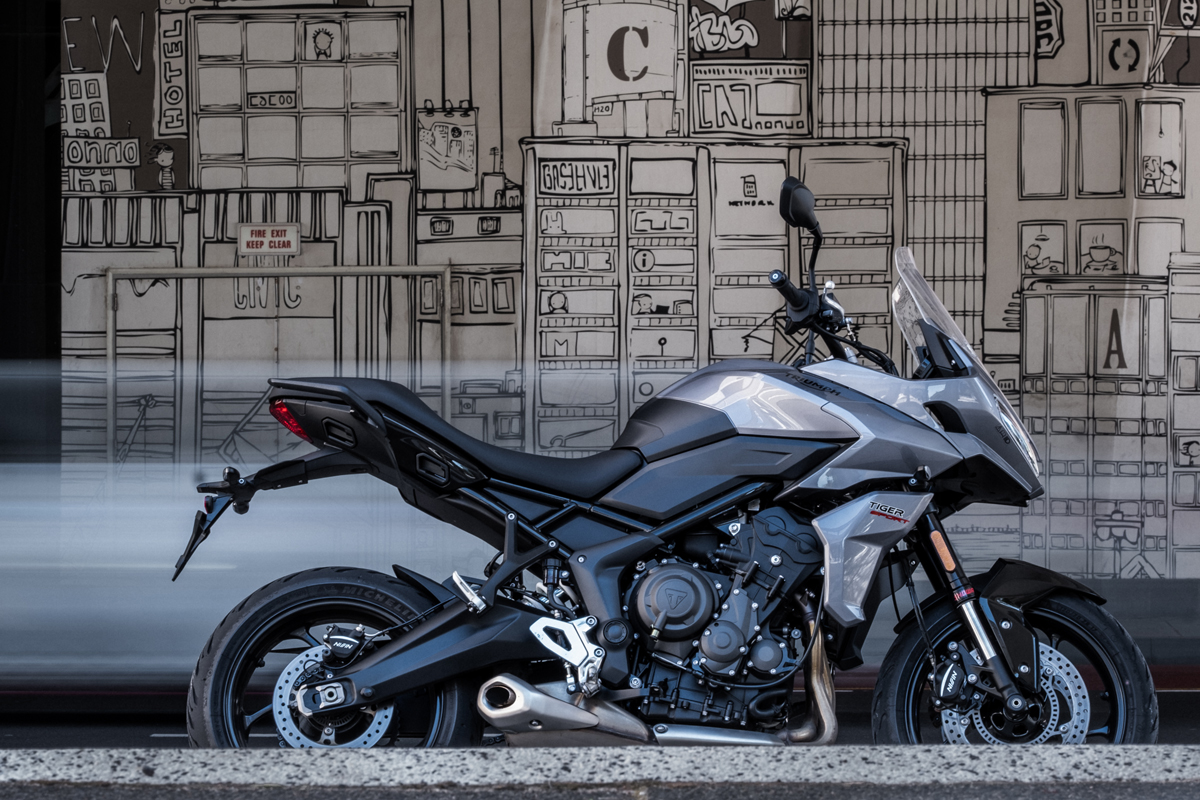 The most obvious change from the Trident is the Tiger Sport's overall posture and styling. It gets a more sculpted tank, which flows into a sharp set of side panels and an angled front fairing. The overall styling is a little puzzling—landing closer to the classic Yamaha Fazer than it does to Triumph's other Tiger models.
But that might be a deliberate move from Triumph to set the Tiger Sport apart from its dedicated adventure bikes, and make the bike's intended usage clear. With 17" wheels at both ends and engine maps more suited to road use, this ain't no dual sport. Call it an adventure sport bike, a sports-tourer or even a 'tall-rounder' if you'd like; all those names fit.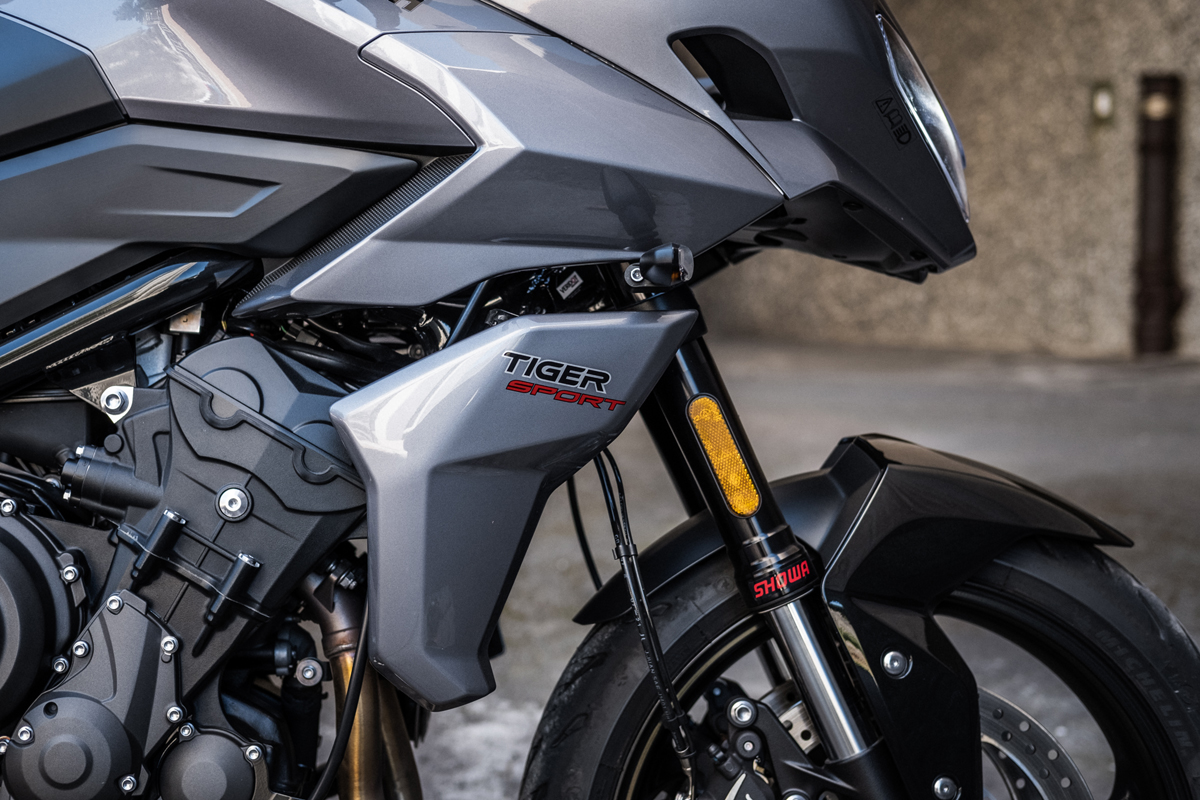 It stands tall with 150 mm of travel from its Showa suspension (adjustable only for preload at the rear), and with a 835 mm seat height. The handlebars sit higher and wider than the Trident's, the wheelbase is 17 mm longer, and the rake and trail are a touch less. And with 17.1 litres of fuel onboard, the Tiger Sport weighs in at 206 kilos (17 kg more than the Trident).
Add those numbers up, and you get a bike that sacrifices a little bit of agility—but gains oodles more comfort. The Tiger Sport's seat is tangibly more comfortable than the Trident's, and the overall riding position is tall and relaxed. That makes it equally geared for sitting tall in traffic, as it is for touring duty.
Between the added weight of the fairing over the front end, and the more relaxed riding position, the Tiger Sport does feel marginally more vague in corners than the Trident, where more aggressive ergos aid snappy handling. But there's a lot of leverage from the wide handlebars—so although it needs a bit more encouragement, it hustles through corners enthusiastically enough to satisfy.
You only get two riding modes ('Rain' and 'Road'), with ABS braking and traction control bundled in. A 'Sport' mode and a quick-shifter would have been nice, but given that Triumph are pitching this as a more affordable sports-tourer, that's wishful thinking. (At least the quick-shifter's available as an aftermarket upgrade.)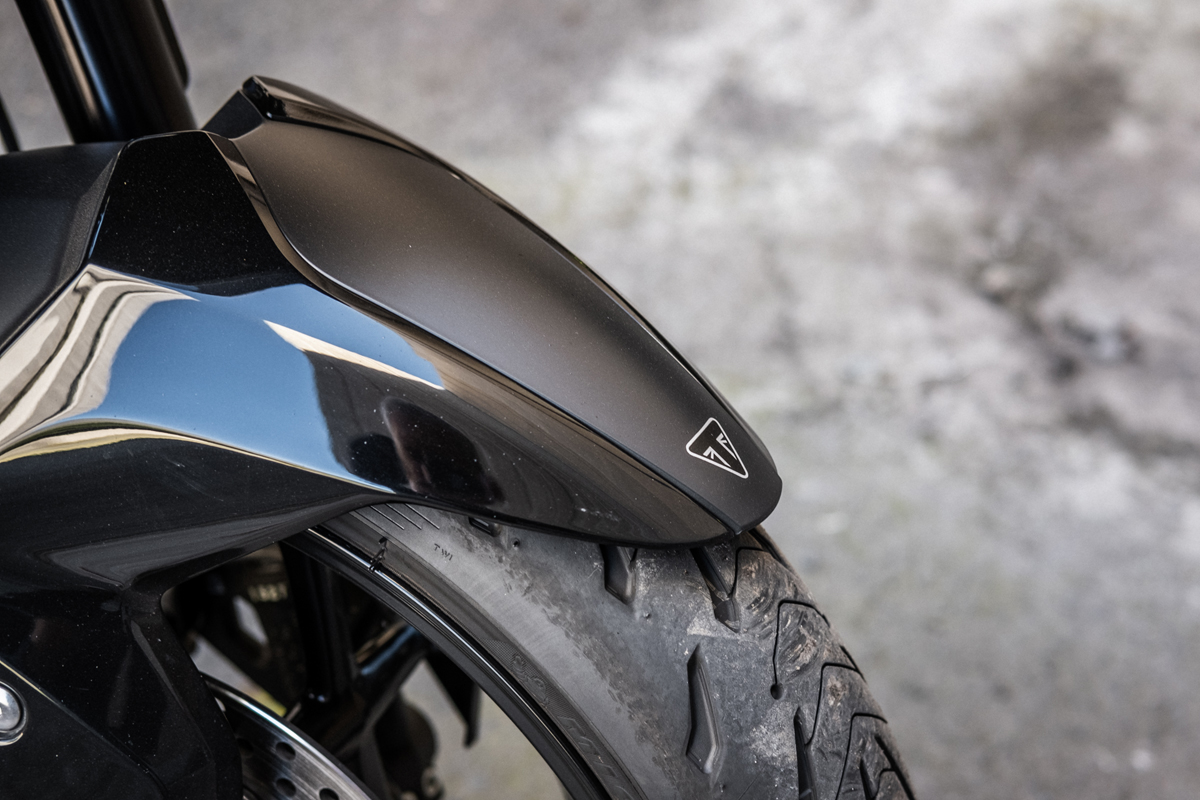 That said, there's plenty of fun to extract from the standard 'Road' mode—and the throttle's compliant nature means that the Tiger Sport is supremely fun to dive into-slash-fire out of corners with. The Nissin brakes work well enough too—but the suspension, while flawless during cornering and on bumpy roads, has a tendency to nosedive under sharp braking.
As accoutrements go, the Tiger Sport lacks cruise control or heated grips, but does come with an adjustable windscreen. Grab the handle with one hand, and you can slide it up and down through multiple positions, even at speed. At 1,86 m tall I had the wind on my chest with the screen down, and around the top edges of my helmet with it all the way up—but the buffeting was never unbearable.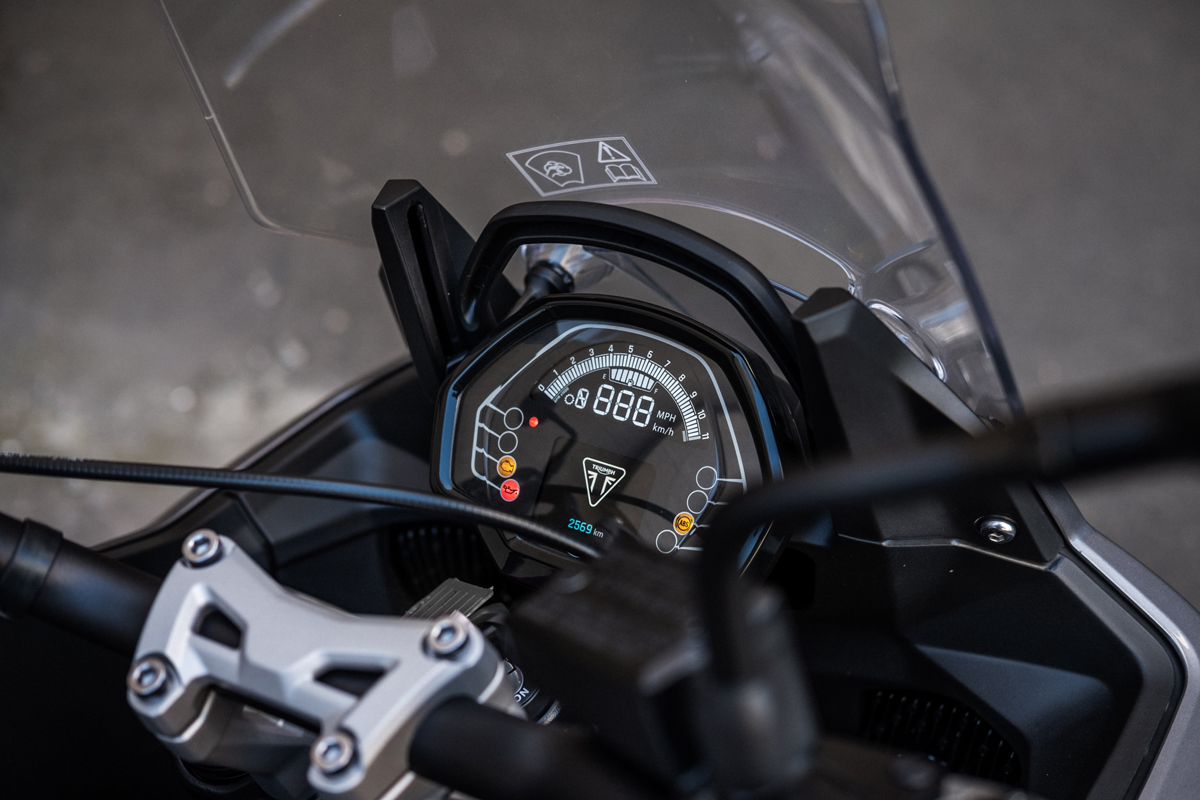 The Tiger Sport's speedo is worth raving about. Instead of a full TFT display, it gets an oval-ish combination display with an LCD section, a small TFT are and warning lights on each side. It sounds bizarre, but in practice, it's highly effective. Granted, Triumph's new four-way arrow switches take a little getting used to—but the way information is laid out on this compact display beats most full-size TFT screens I've seen.
At the opposite end, you'll find a petite pillion seat, with grab handles and mounting points for optional luggage sets. LED lighting rounds out the parts spec.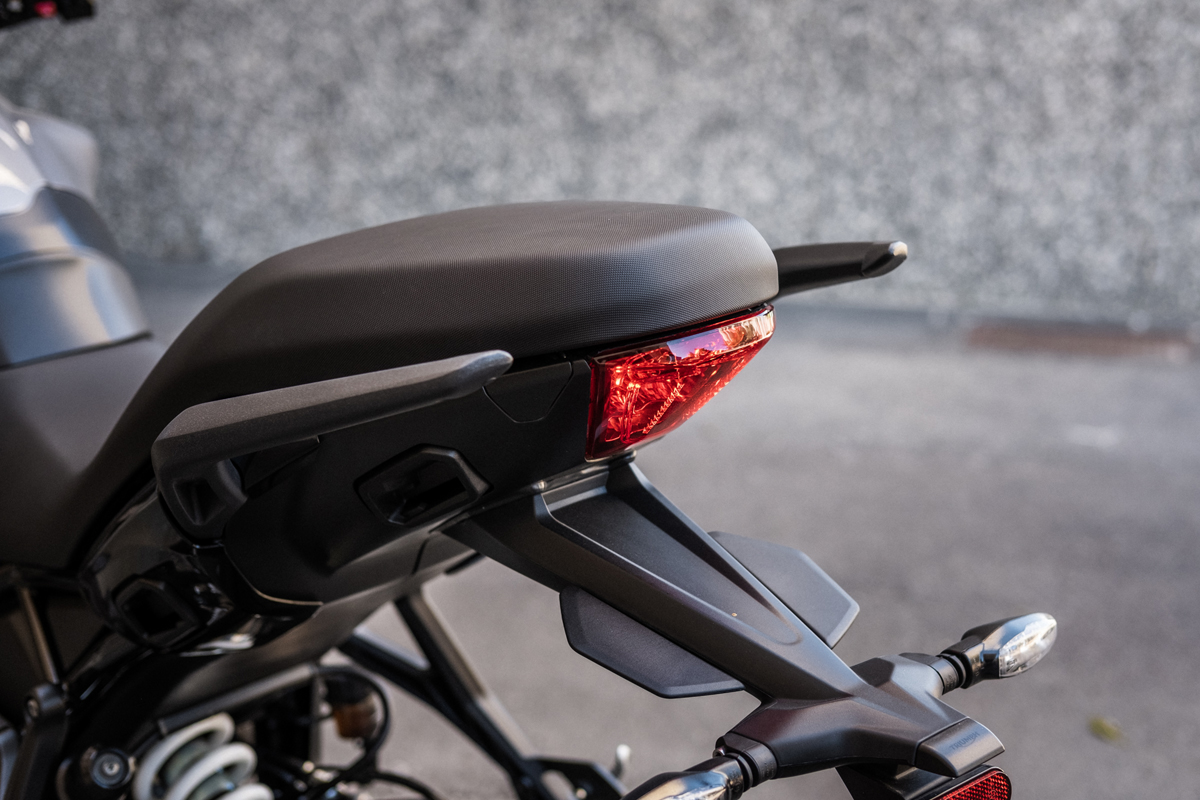 It all adds to the Tiger Sport's all-round appeal. Short of taking it off-road, this middleweight adventure sport triple can tackle a wide range of applications without flinching. As a commuter that can cut loose on the weekends, and hit the open road a couple of times a year, it makes a compelling argument.
The real question is: will we get a more adventure-focussed version of the Tiger Sport 660 in the future? My gut says yes. And if it's as easy to get along with as this version, as capable as Triumph's bigger Tigers, and reasonably priced, it'll sell like hotcakes.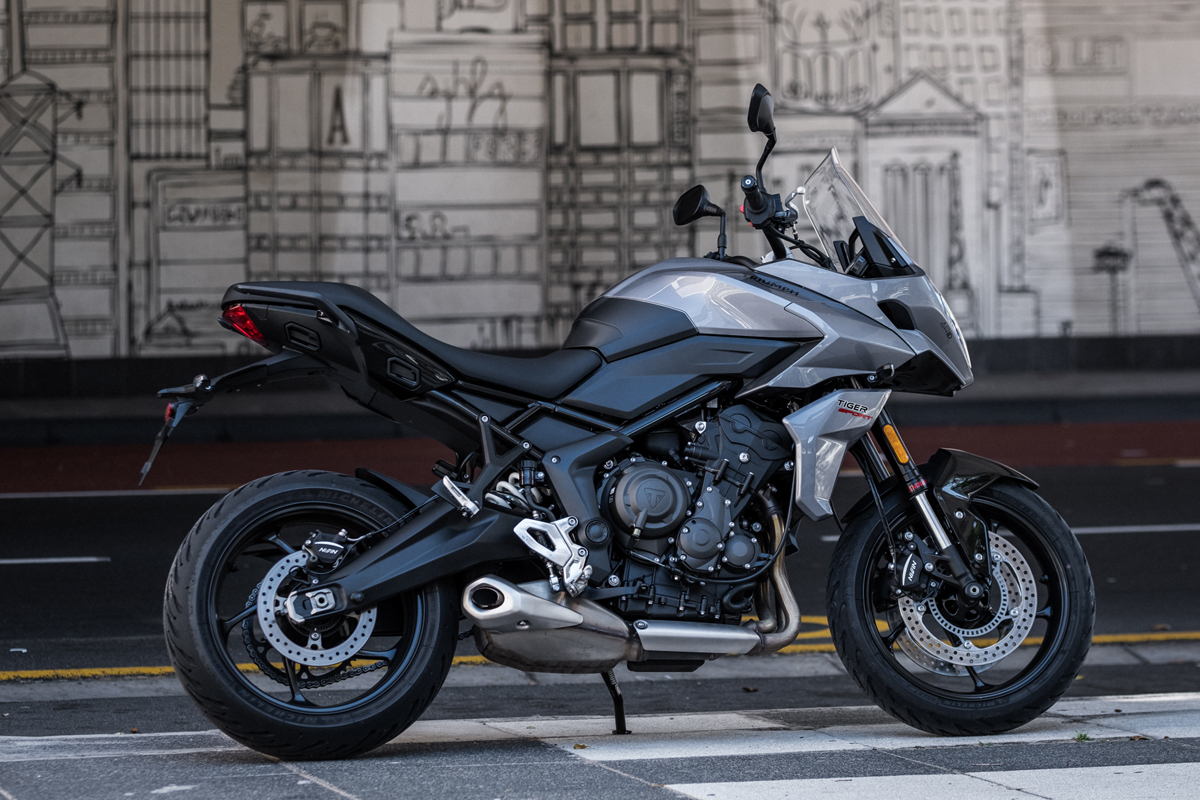 Triumph Tiger Sport 660
For more information on the bike that we used in this article, click on the link below…