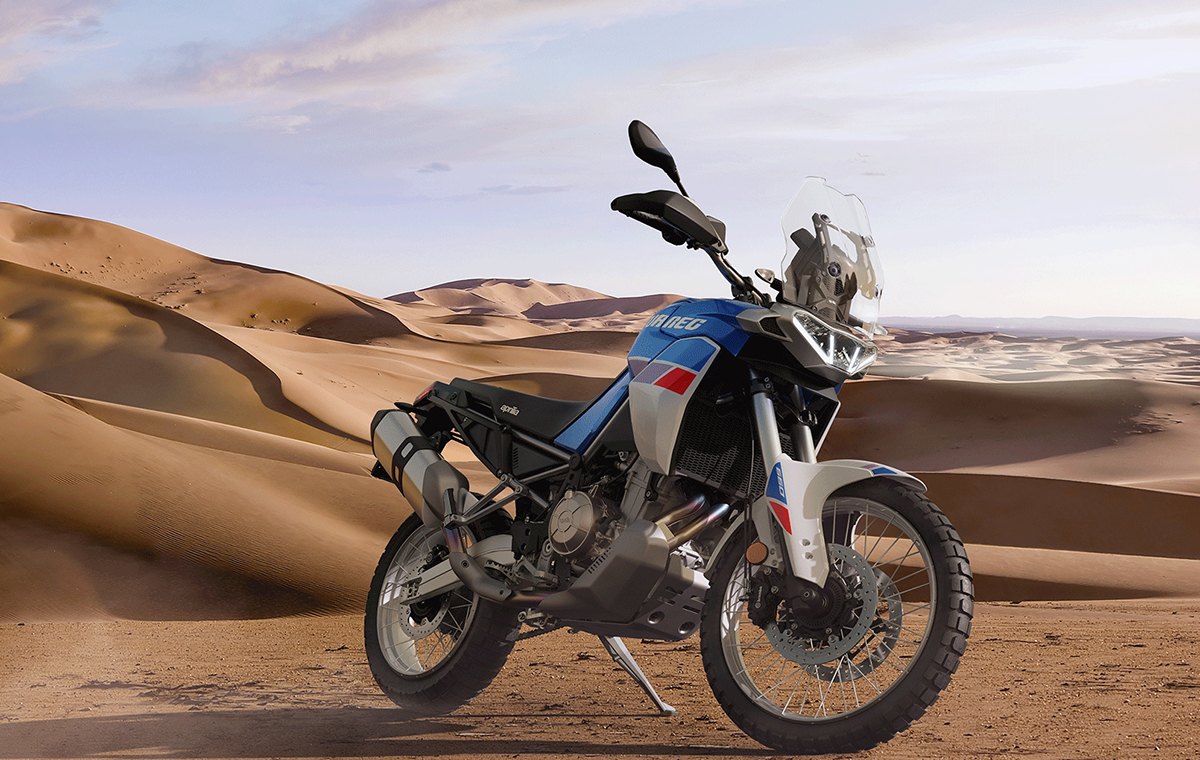 Exciting news from Aprilia this weekend, as the Italian marque confirms their long-rumoured Tuareg 660 adventure bike. For now, all they've revealed are renders and a surface-level spec sheet… but colour us impressed so far.
The Tuareg revives a model designation last used on the single-cylinder 1991 Aprilia Tuareg 600, and it's smaller 50, 125, 250 and 350 cc siblings in the 80s. The new Tuareg 660 is a thoroughly modern motorcycle, but it borrows its livery from the 90s bike—right down to the Tuareg logo and purple and red highlights.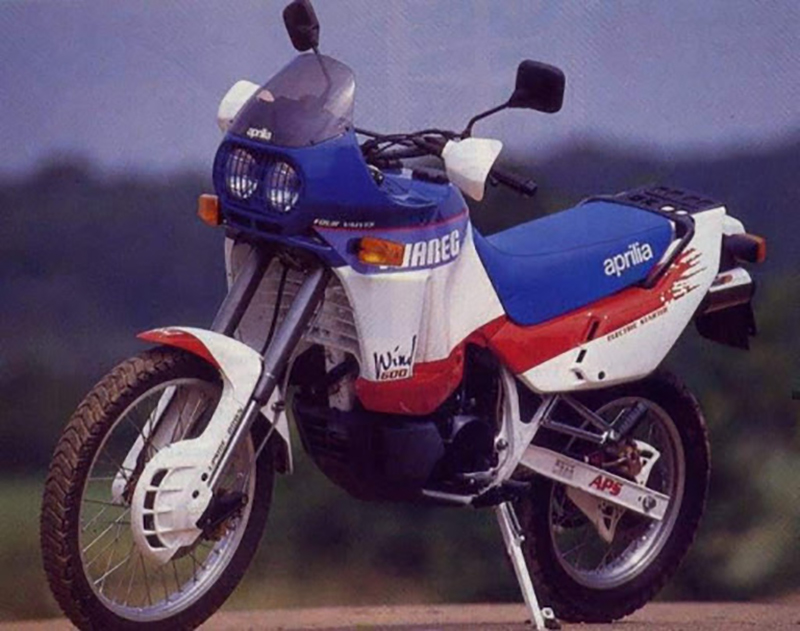 As its name implied, the Tuareg 660 uses a version of the 659 cc liquid-cooled parallel-twin in the RS 660 and Tuono 660. It's a redesigned version, making 80 hp and 70 Nm rather than the 100 hp and 67 Nm of the RS. No doubt it'll feel way different too—Aprilia promises a "significantly boosted low/mid-range curve," and we'd imagine it'll be geared for adventure riding.
Looking at the chassis, it appears Aprilia mean business. Ground clearance is said to be "more than 240 mm," with a seat height of "less than 860 mm." Suspension travel is set at 240 mm, and the renderings imply 21F/18R tubeless wheels. The bench seat, grippy foot pegs and removable passenger peg mounts all point to a bike with off-road riding in mind.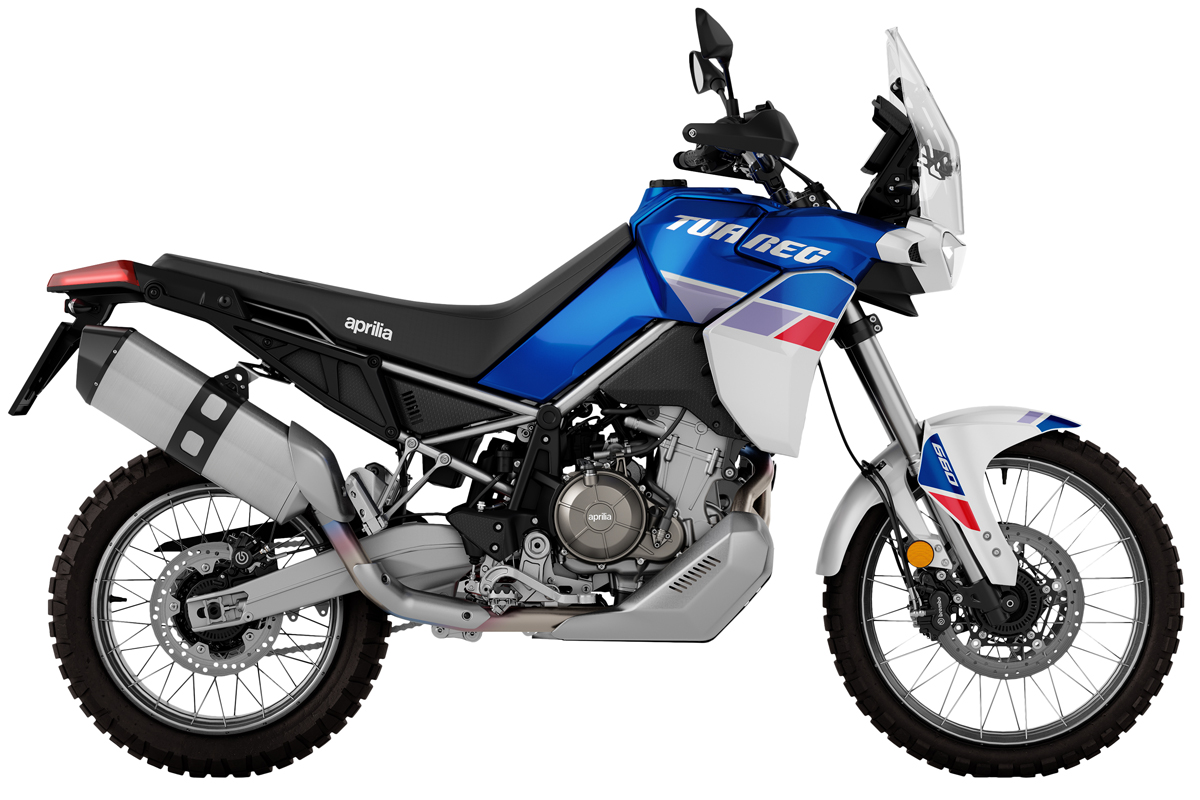 Aprilia's website also lists a tubular steel frame, a dry weight of 187 kilos and an 18 l fuel tank.
Like the RS 660, the Tuareg 660 uses Aprilia's 'APRC' electronics package. It gets four riding modes, including one specifically tuned for off-road riding, and two that are customizable. And its ABS can be disabled either just at the back wheel, or at both ends. Traction control and cruise control are bundled in too, and the Tuareg will be kitted with a 5" TFT display and LED lighting.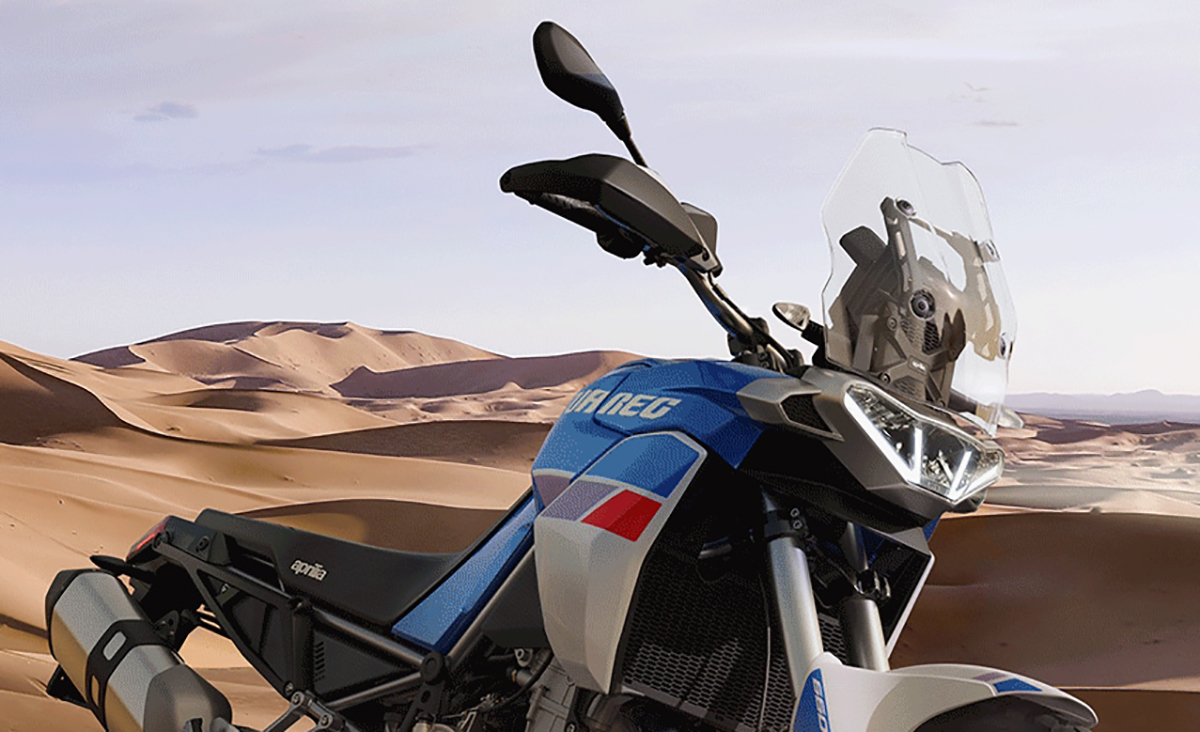 It's clear that Aprilia are gunning for the Yamaha Ténéré 700 with the Tuareg 660. It boasts a little more power, torque and suspension travel, and includes some of the electronic gadgetry that the T7 deliberately left out for the sake of making a more purist adventure bike. And it's just as good looking too, with fewer layers of plastic than most modern dual sport bikes.
Reports of the RS 660 have been widely positive so far, so it's safe to assume that Aprilia are onto a good thing here. If it rides as good as it looks, it should be a winner.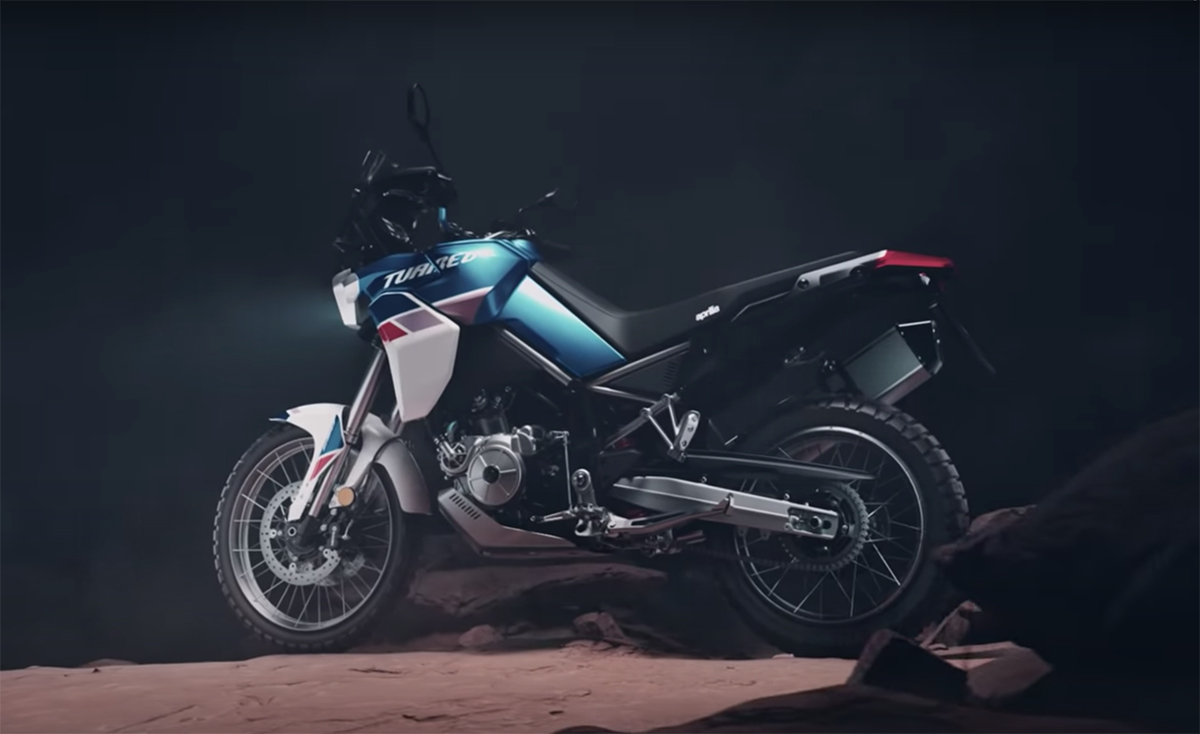 There's no word on when the Tuareg 660 will land in South Africa, or what it'll cost. And that'll really be the kicker: if Aprilia bring it in under the T7's current eye-watering price tag, it'll be tough to say no. But if it's pricier, it'll have to compete with some of the bigger and more established adventure bikes on the market, and it'll be a hard sell.
Only time will tell.